Why I Visit Art Fairs and Galleries
If you really want to know what someone is like as a person, mention the term, "art gallery" to them and see how they respond. Seriously. Some people have strong feelings about art galleries. Many people who've never even set foot inside a gallery tend to think that they're "arty-farty," "fancy" and exclusive places where they're not welcome.
I know this because the reaction I got in the 1990s when I announced my debut performance poetry gig to my cousins was exactly the same. "Ooh get you," they cooed in unison! Of course I stopped inviting them to my poetry gigs. Poetry and art galleries have this thing in common ... that they're a bit out there but honestly this is certainly not the case.
I have to admit that poetry gigs did come before visiting art fairs and galleries. But as soon as my art journey kicked in, I was curious enough to want to make an effort to go see some art. In August 2015, I visited Tate Modern and the National Gallery. My 2015 Visual Art Blog has the details.
In July 2017, I visited Tate Modern again. This time I took the whole family to view Soul of a Nation: Art in the Age of Black Power. It was my granddaughter's first visit to a gallery and she loved it. More about that event on my 2015 Visual Art Blog.
2018 Visits to 3 Art Galleries:
May 26th: Saatchi Gallery, Kings Road, London — Free Entry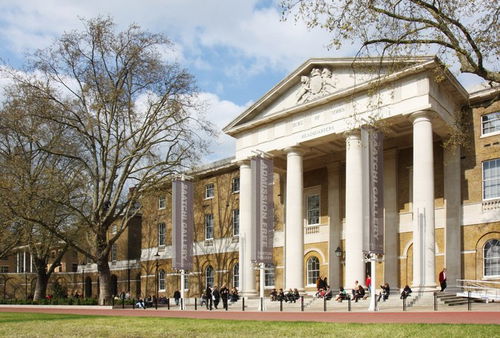 Saatchi Gallery, LondonThe Saatchi Gallery is stunning with its gallery restaurant, bar, and cafe. Many artists showing are unknown when first exhibited, not only to the general public but also to the commercial art world. Many of these artists are subsequently offered shows by galleries and museums internationally.
The gallery also operates as a springboard for artists to launch their careers. Free admission to all of their art exhibitions is part of the Saatchi Gallery's aim to bring contemporary works to the widest audience possible.
The Exhibition:
Known Unknowns Exhibition — a showcase of an international selection of artists, born between 1966 and 1990. The title refers to the artists' status in the mainstream art world — whilst the group is largely unknown, their respective practices are greatly admired by their artistic peers and seen as breaking new ground.
The exhibition featured a diverse range of art forms including painting, sculpture, video and mixed media, with a particular focus on the craft of art-making.
The works dealt with a myriad of themes that related to the visual conditions of contemporary life such as the daily onslaught of images, the representation of the body in the internet age, and the ethics of viewing versus voyeurism.
September 15th: Whitechapel Gallery, High Street, Aldgate East, London — Free Entry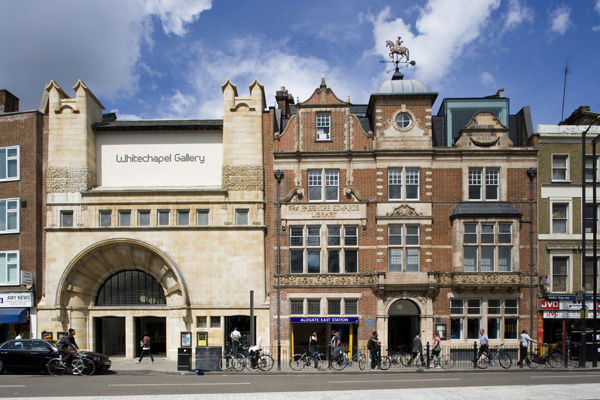 Whitechapel Gallery, LondonWhitechapel Gallery is quite small, located on the north side of Whitechapel High Street, next to Aldgate East underground station, in the London Borough of Tower Hamlets in the East End.
The gallery has a long track record for education and outreach projects, focused on local people. It exhibits the work of contemporary artists, as well as organising retrospective exhibitions and shows that are of interest to the local community.
The Exhibition:
Surreal Science - Loudon Collection with Salvatore Arancio — Inner and outer worlds brought together in an installation that illuminated a rare collection devoted to explaining and understanding the mysteries of nature and existence through scientific enquiry.
November 3rd Victoria & Albert Museum, Cromwell Road, South Kensington, London — (Entry to the museum is free except for this exhibition).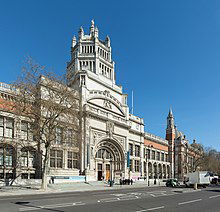 Victoria and Albert Museum, LondonThe Victoria and Albert Museum is, to put it mildly, big! It houses decorative arts and design, plus sculpture, with a permanent collection of over two million objects.
The Exhibition: Entry £15.00
Frida Kahlo: Making Herself Up — The exhibition was based on the discovery in 2004 of Frida Kahlo's clothing and personal possessions in the Casa Azul (Blue House), her life-long home. Hidden away for 50 years following her death in 1954, were over 200 artefacts. This was the first time these items had been shown outside Mexico.
The focus then wasn't on Frida Kahlo's artwork. Instead, the focus was on her iconic image, her clothes, make-up routine and even her prosthetic leg.
However, I found the experience of trying to physically navigate this exhibition daunting. It struck me immediately just how uncomfortable it was to be in a fairly small set of rooms which were full to capacity.
I wondered why the exhibition space marginalised Frida Kahlo's exhibition in this awful way, when clearly there were ample larger spaces in this huge institution.
Being in this tight-knit space was worse than being in a sweaty nightclub! Forget user-friendly, forget wheelchair access, this was all about bums on seats! I just about managed to zig-zag my way around these oppressive dimly lit rooms. I couldn't wait to get out of there!
* * *
2019 Visits to Art Fairs:
19 January London Art Fair, Business Design Centre, Islington, London. Entry Day Ticket = £12.75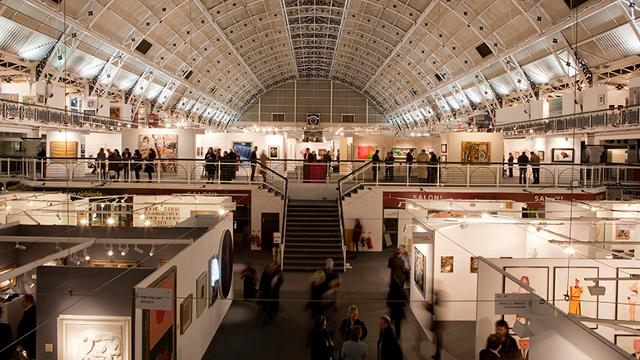 Business Design Centre, LondonIt was lovely to be in my hometown for this exhibition; Islington is an area I went to school in (Elizabeth Garrett Anderson School for Girls formally Starcross). I also used to work across the road to the Business Design Centre, in Camden Passage so the surroundings were familiar.
Overall the London Art Fair was fine, with hundreds of galleries exhibiting from the UK and internationally. Thousands of people of all ages attended, although the majority didn't reflect the Angel, an area in Islington, which is multi-cultural.
The whole event was presented and organised well with mostly oil paintings. I was impressed ...
23rd February Parallax Art Fair, 25th Edition, Chelsea Town Hall, King's Road, London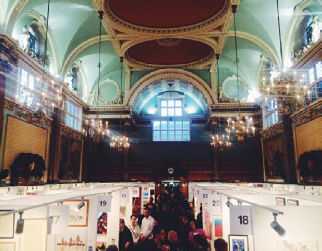 Chelsea Town Hall, King's Road, London... that is until I visited the Parallax Art Fair. Here I was in for a real treat, on many levels. The gorgeous Chelsea Town Hall was impressive with its high ceilings and chandeliers — well it is Chelsea — such an ideal venue for an art fair!
It felt so natural to talk to the artists, especially as they were so welcoming! I could tell that a few had scripts, so as to promote their art in the hope of a sale, but mostly I found the artists to be genuinely open.
I really enjoyed listening to the artists express their creative process and picked up a few valuable tips and tricks. And it was great to swap business cards.
My friend and I had a great time. We ate a nice lunch in the restaurant - Caribbean style chicken and vegetable soup and a buttered roll for a reasonable £4.50, with a nice jazz trio band entertaining us in the background.
We spent the best part of the day at the Parallax Art Fair; it was so enjoyable, that we didn't want to leave at closing time!
Here I met Soma, an artist based in London, who later that day sold one of his Mixed Media on jute pieces!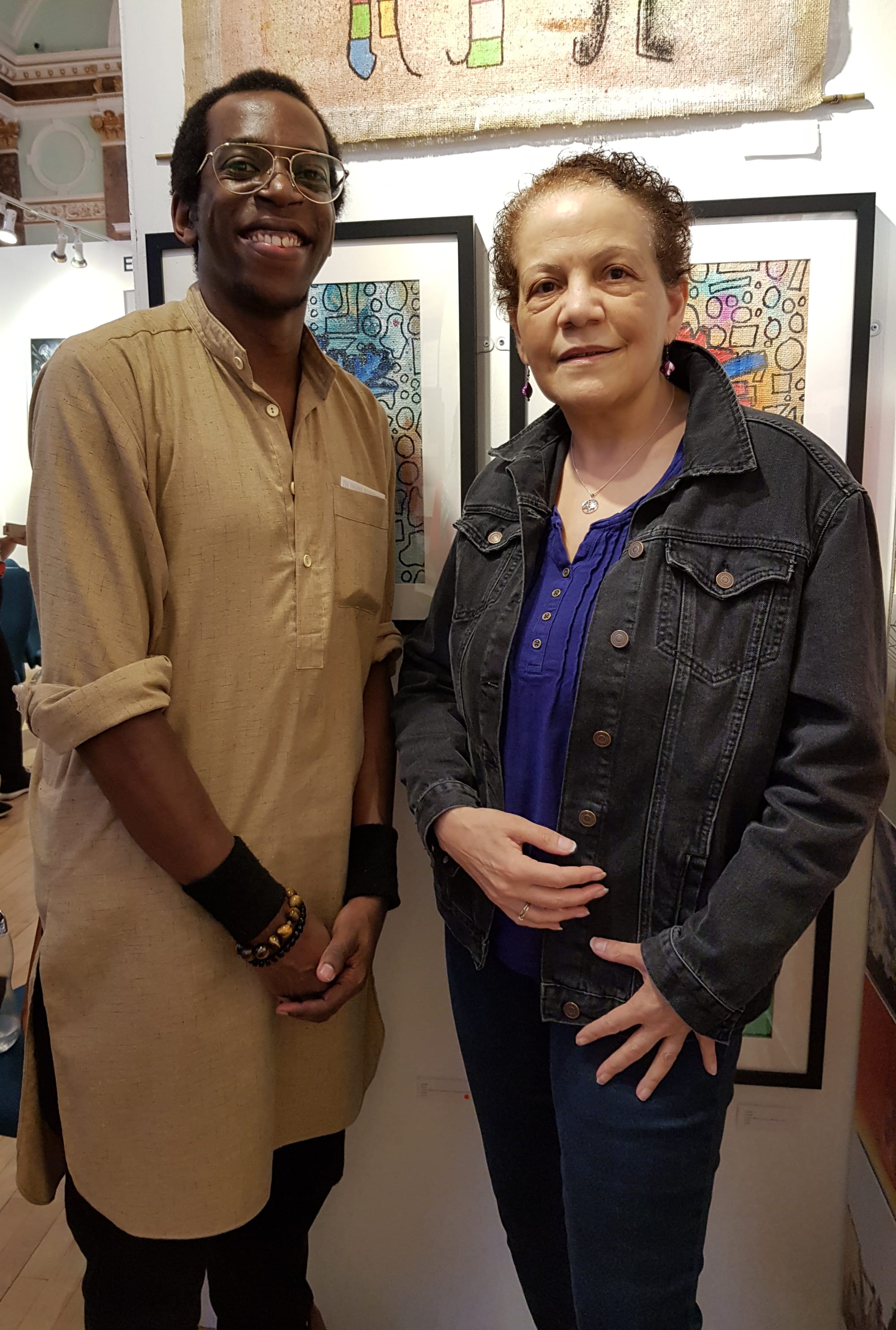 Soma and me at Parallax Art Far
Visiting Art Fairs and Galleries - Tips & Benefits:
It's a good idea to visit art fairs and galleries by yourself or with an artist friend. Artists see things that even art historians and other art professionals just won't see.
You will get inside the process of art-making when you visit art fairs and galleries with artists. It's meditative and fun.
Art fairs and galleries often enhance a great sense of calm and wellbeing. Work pressured art dealers probably won't feel this way, but you will.
Conclusion:
Apart from the fact that I love visiting London for a day out, as an emerging artist, getting up close and personal with art is essential, if like me, you have a vision of your artwork being exhibited. And even if you're not an artist, it's worth taking in some art!
It's not enough to view other people's artwork just on Instagram or other similar apps. While those online galleries like Instagram are cool — and I do like scrolling through what are sometimes amazing images from all over the world — viewing art at an art fair or gallery gives you a sense of perspective. You can stand back and really see the piece, not only in its individual style but in the way it's curated.
In fact viewing art in fairs and galleries helped me curate my art gallery on this website. For more about my curatorial projects see my Bio. Viewing art in this way also helps you think about working in terms of your own projects ... maybe in putting together a series of related art pieces.
It helps to view art in different buildings too, as each exhibition will be a unique experience.
I have to admit that it's art fairs for me from now on. There's a very different vibe at these types of exhibition; it's particularly encouraging and inspiring to network with artists, plus of course viewing all that amazing art!
* * *
If you find the information in this post useful, be sure to share it with your friends and fellow bloggers via Twitter and Facebook. Let me know in the comments section about your art gallery experiences. Is a visit on your to-do list? I hope so.
Don't forget to subscribe to my blog by submitting your email address below.
Cover Image: Christopher Czermak / Unsplash