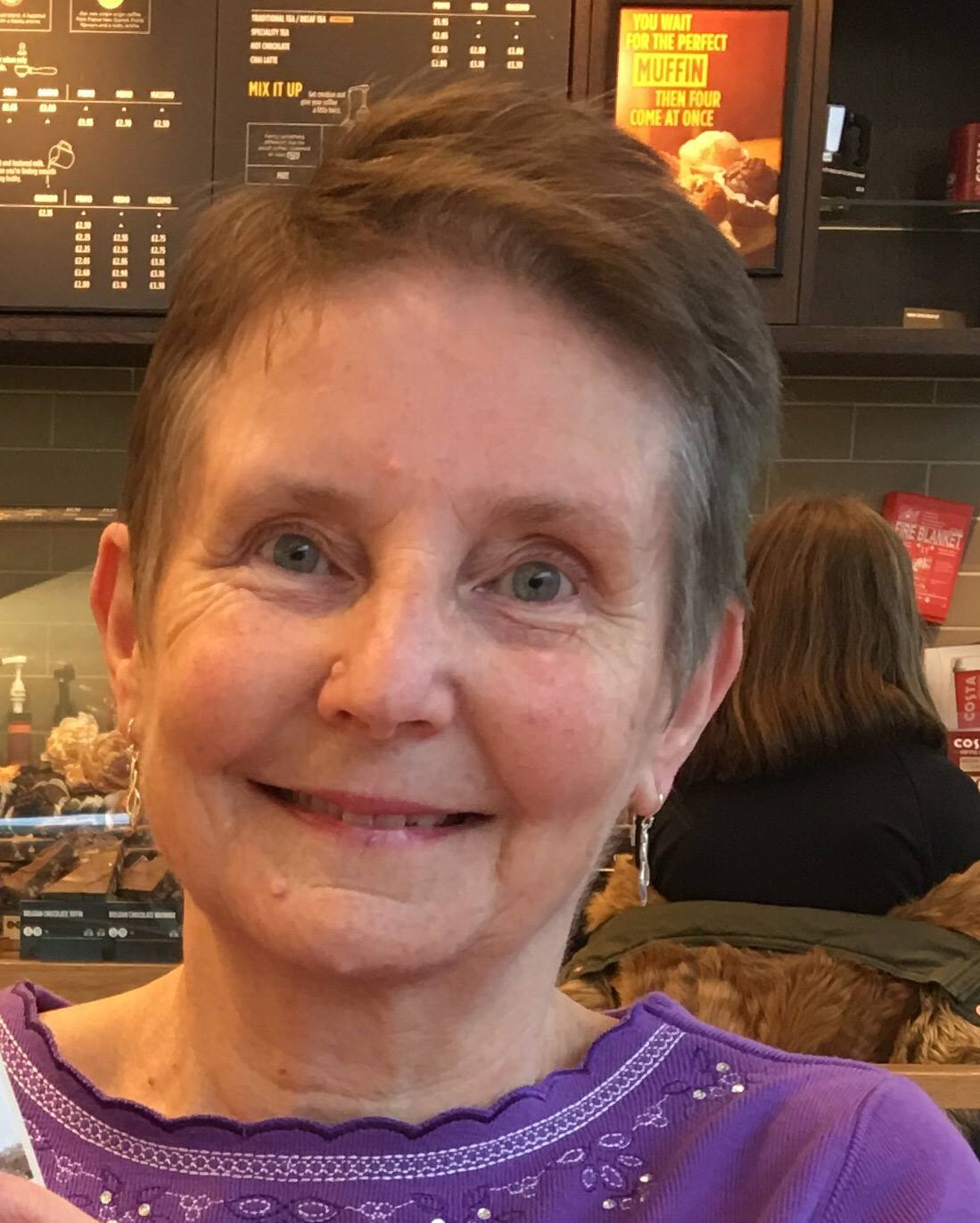 Margaret JosephIntroducing Margaret Joseph, a self-taught artist from Birmingham who works mainly with acrylics on canvas, glass, and ceramic tiles. Her vibrant work is a reflection of her love for flowers, depicted in a semi-abstract way. Although beginning her art journey later in life, Margaret likes to experiment, using different techniques.
I was lucky enough to be signposted to Margaret by her daughter Fiona, once I'd launched/promoted this website on my Twitter feed at the end of 2018. (Thanks Fiona!) It appears that creativity runs in the family. I met Fiona when she contributed to my anthologies of creative writing between 2005 - 2010.
I want to start by thanking Margaret for agreeing to be a guest on my blog. I'm so pleased to be featuring her here! Margaret and I have kept in touch by email since our first introduction and I have enjoyed our chats and especially like her art work.You'll find a few selected pieces below.
Nicole Moore (NM): How and when did your art journey begin?
Margaret Joseph (MJ): I must admit, I didn't have any interest in creating art of any kind until I reached the grand age of 60! Before then, I didn't think I had a creative bone in my body. However, upon the insistence of a friend, I went to some card-making classes and developed an interest in producing handmade cards. After a rather shaky start, I really started to enjoy myself and was amazed to find that people were actually prepared to buy my cards at art and craft fairs! Boosted by this, I became even more adventurous and started painting watercolour flowers on my cards. This led to an interest in painting itself.
NM: How has your art practice changed over time?
MJ: For a few years I dabbled in watercolours before changing to acrylics as I found them far more versatile for painting on both canvas, glass, and ceramic tiles. My artwork was based mainly on a rather loose interpretation of floral images rather than perfect botanical likenesses.
Wanting to get away from just flowers, I became a member of an online Acrylic Pouring Group which enabled me to expand and try various new styles. Acrylic pouring was completely different for me as it didn't involve using brushes or spatulas, just the freedom to pour paint directly onto the canvas. Obviously, there's a lot more to it than that, but it gave me the freedom to create my own style of artwork. There are people who think that acrylic pouring is not 'real' art and that a child could do it. Well, let me tell you, it's not as easy as it looks! Among other things, you need to have the correct ratio of paint to water, so as to create the right consistency, otherwise it can end up a total disaster.
One particular technique is to add silicone to your mixed paint, which when poured onto the canvas, will create various different size 'cells' and result in a most interesting effect. Another technique is to 'blow' your paints across the canvas, using the humble hairdryer, for a totally abstract effect. You can also use the 'dipping' method, which works particularly well on ceramic tiles. I love the fact that each piece of artwork is totally unique and cannot be reproduced, even when using the exact mix of paints. Most of my artwork looks particularly good when sealed with a high gloss varnish as that really accentuates the colours, while at the same time preserving them.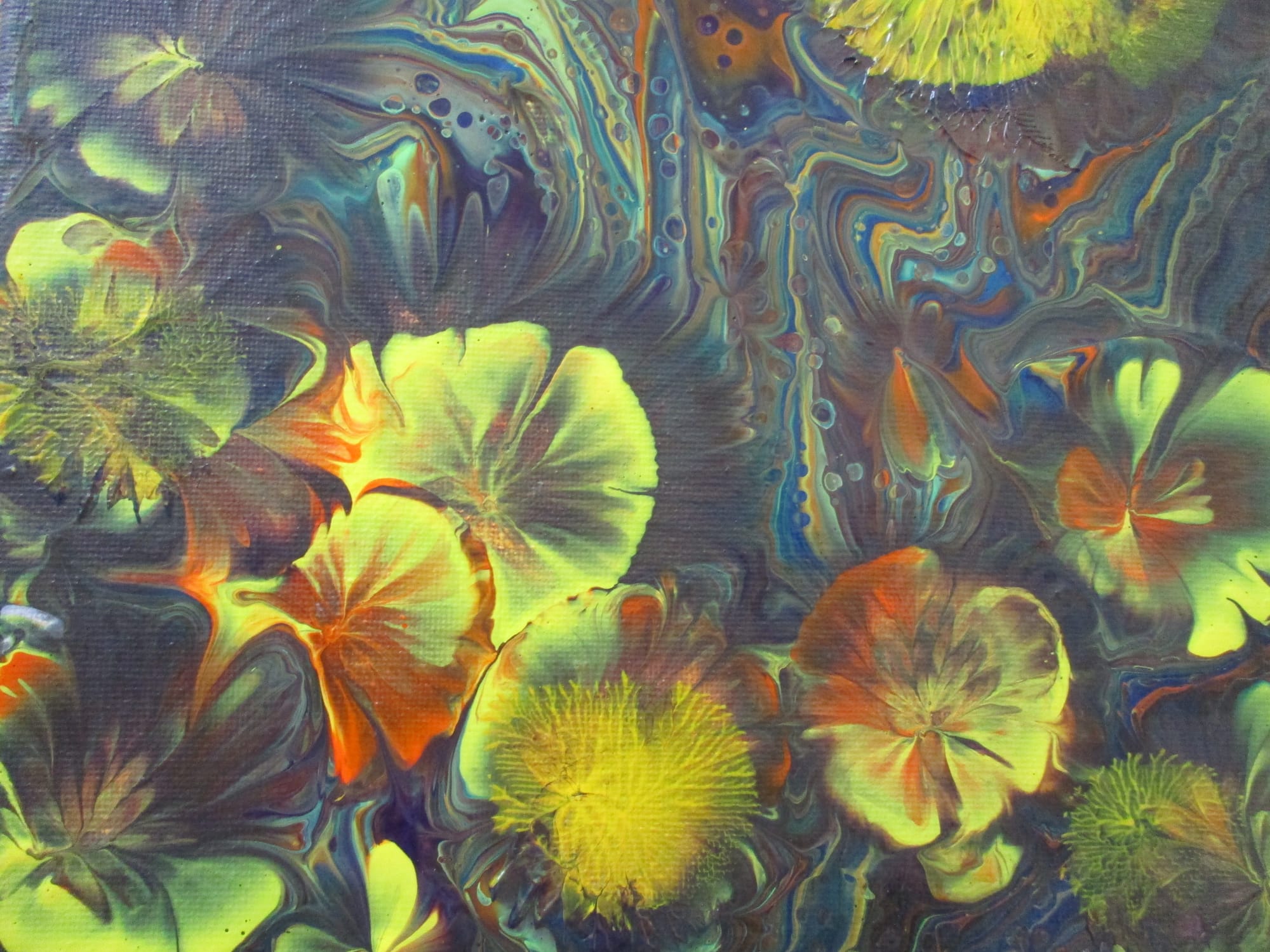 Margaret Joseph, Autumn Glory, 2018
acrylic on canvas 12 x 10 inchesNM: What is your most important artist tool? Is there something you can't live without?
MJ: I had to think about this one ... silly as it might sound, I couldn't manage any of my art without copious amounts of kitchen roll! It is a total necessity as I seem to get paint absolutely everywhere. It has been known for my straw-blown paint to end up on the wall, chairs, and floor, as well as myself of course. So kitchen roll and latex gloves are two things I couldn't manage without!
NM: Is there an element of art you enjoy working with most? Why?
MJ: I must admit that the creation of abstract floral artwork always gives me the utmost joy. I love flowers of every kind and always find inspiration both in my garden and out and about on my travels. It gives me the chance to use the most vibrant colours in my art supply sometimes and then at other times, more subtle shades.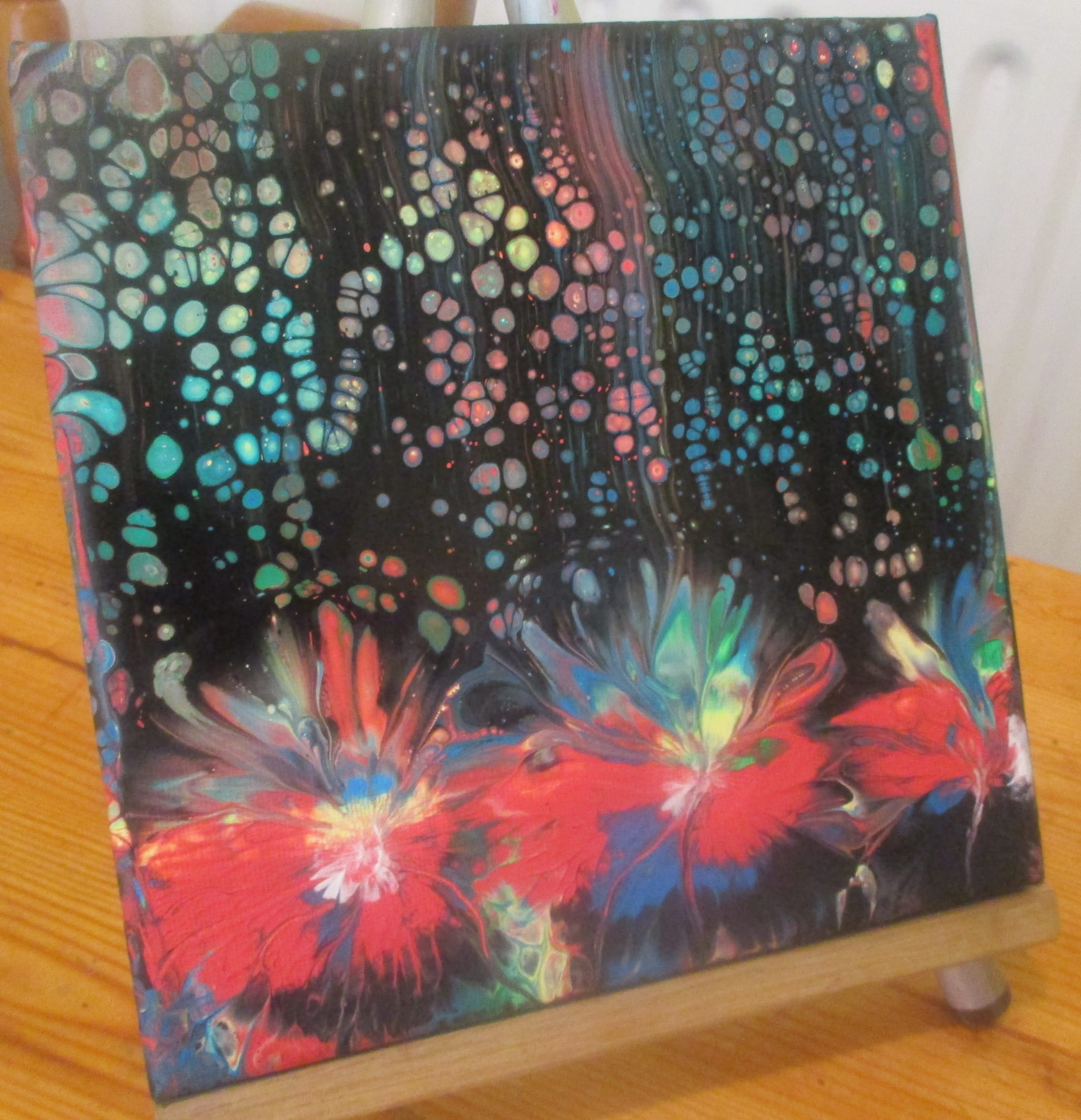 Margaret Joseph, Fireworks Extravaganza, 2019 - acrylic with added silicone on canvas
8 x 8 inchesNM: What, if anything, does your art aim to express?
MJ: I like to think that my art conveys the intensity of my thoughts and feelings and also the love I have for art, particularly when creating more abstract work. I have suffered from depression for most of my life and creating art has been my absolute salvation. To totally immerse myself in this creative freedom means that negative thoughts of any kind aren't given the chance to creep in. When I have finished a canvas or tile that I'm particularly happy with, my spirits are uplifted and I feel at peace with the world.
NM: What, or who, inspires you?
MJ: As I have mentioned previously, flowers never fail to inspire me. At the opposite end of the spectrum, I have always loved the work of Jackson Pollock. From the first time I saw one of his paintings, I was totally hooked. His work is so exciting, unique and full of creative activity. I would love to be able to paint with that energy and force of expression. Another lesser known artist I admire is Jane Betteridge who works in mixed media. I find her work very inspirational as she also gets ideas from nature of every kind.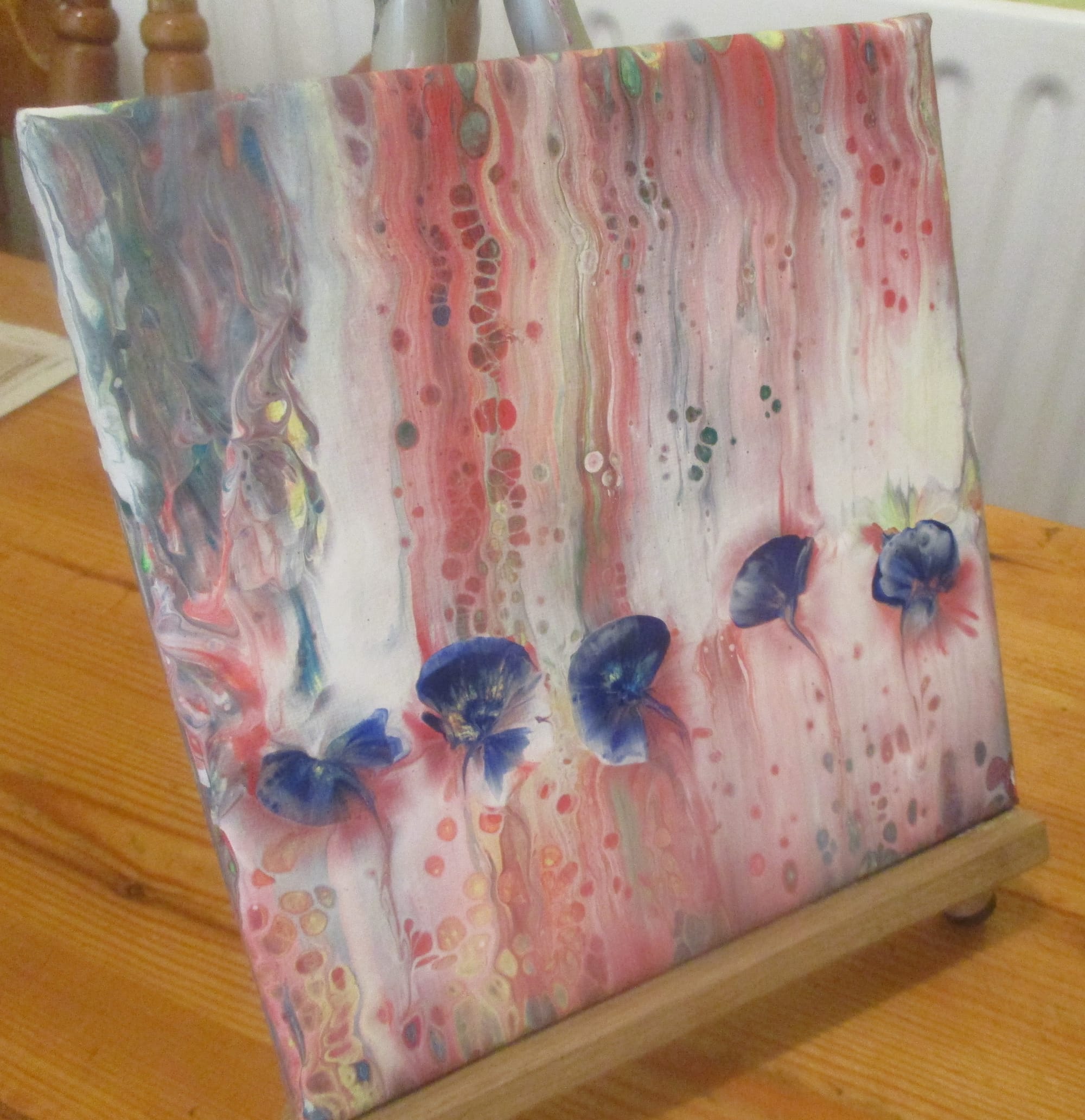 Margaret Joseph, A Flurry of Flowers, 2019 acrylic with added silicone on canvas
8 x 8 inchesNM: And finally, what's next?
MJ: Well, I did a three-year Calligraphy course at a local Further Education Centre (2010-2013) and I'm hoping in the future to incorporate calligraphic lettering into some of my artwork.
* * *
If this post has resonated with you in any way, please let me know in the Comments section below.
Also, if you are a visual artist and would like to be featured as a guest on my blog,
do let me know in the Comments section.
Don't forget to subscribe to my blog by submitting your email address below.
Cover Image: Steve Johnson