Who Inspires my Art Journey
When I embarked upon my art journey in 2015, I made sure to check out artists who inspired me. You can read my list of those artists here under my website's FAQ Who Inspires You?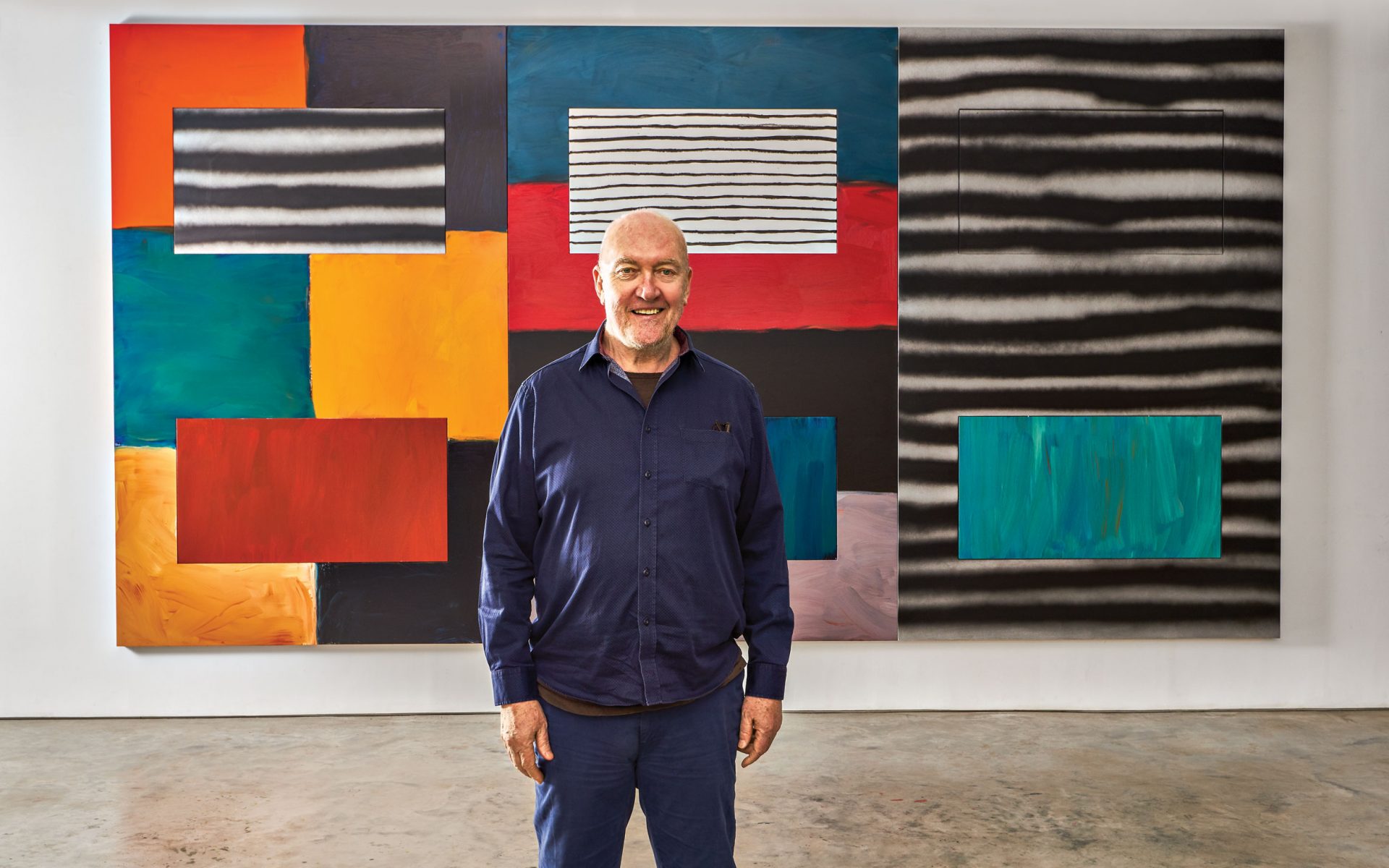 Sean Scully standing in front of What Makes Us Too, 2017, in oil on aluminium.
Photo: Michael Mundy,
Courtesy Galerie Magazine
So on the afternoon of 07/04/19, when I tuned into watch *Unstoppable: Sean Scully and the Art of Everything, on BBC Two (81 mins), a featured documentary of a year in his life, I wanted to check him out; mainly because of my interest in abstract art-making. Little did I know just how much of an impact watching this programme would have.
Who is Sean Scully?
I hadn't heard of Sean Scully, so I had no preconceived ideas about him. All I knew was that he makes abstract art and is one of the world's richest painters. In fact, I don't think he is that well known in the UK but he is a superstar internationally.
In the programme, Sean Scully flies around the globe, from Washington to St. Petersburg and Mexico City to Berlin, to open 15 major museum exhibitions of his — a journey that also reveals his extraordinary life story.
Sean Scully appears to be in complete control of exactly what paintings he will release to museum curators and he rarely sells his work. When he does sell, one of his paintings can fetch up to a million pounds.
But aside from the fame and fortune of Sean Scully ­— now 73 years old — it's his story that is gripping, especially how he built a reputation from nothing, having grown up poor on the streets of Dublin and London, often homeless as a child. There's tragedy too ...
How has Sean Scully influenced my art journey?
The take away for me was Sean Scully's openness about his knowledge of abstract art, not just the way he makes his paintings, in a rough and ready style, but the philosophy he adopts while in the creative process. "With painting, you need an enormous amount of knowledge plus craft, which will give you freedom," he says. "A painting has not to explain itself ... I don't need to explain myself!"
I've always liked abstract art, but I love it even more now. Watching Sean Scully in this BBC Arena programme, was empowering enough for me to really get to grips with abstract art by studying its history and language.
I am also excited about a new abstract painting project that I will be working on soon, using a collage series Mi-My-Gration, that I did in 2017 as a reference. Watch this space ...
*Unstoppable: Sean Scully and the Art of Everything is available on BBC iPlayer until 12/05/19.
Here's the link to the whole programme:
Link to Unstoppable: Sean Scully and the Art of Everything
I've also watched a few of Sean Scully's YouTube videos. This one was especially inspirational:
Let me know in the Comments section below who has inspired you and your art journey? How much of an impact has an artist had on your art practice?
Don't forget to subscribe to my blog by submitting
your email address below.
Notes:
Unstoppable: Sean Scully and the Art of Everything was commissioned by Mark Bell for BBC Arena and Directed by Nick Wiling and produced by Michele Camarda of Kismet Film Company.
Cover Image: Rhondak Native Florida Folk Artist / Unsplash