September 14th, 2019: Somerset House, Strand, London – Entry £9.50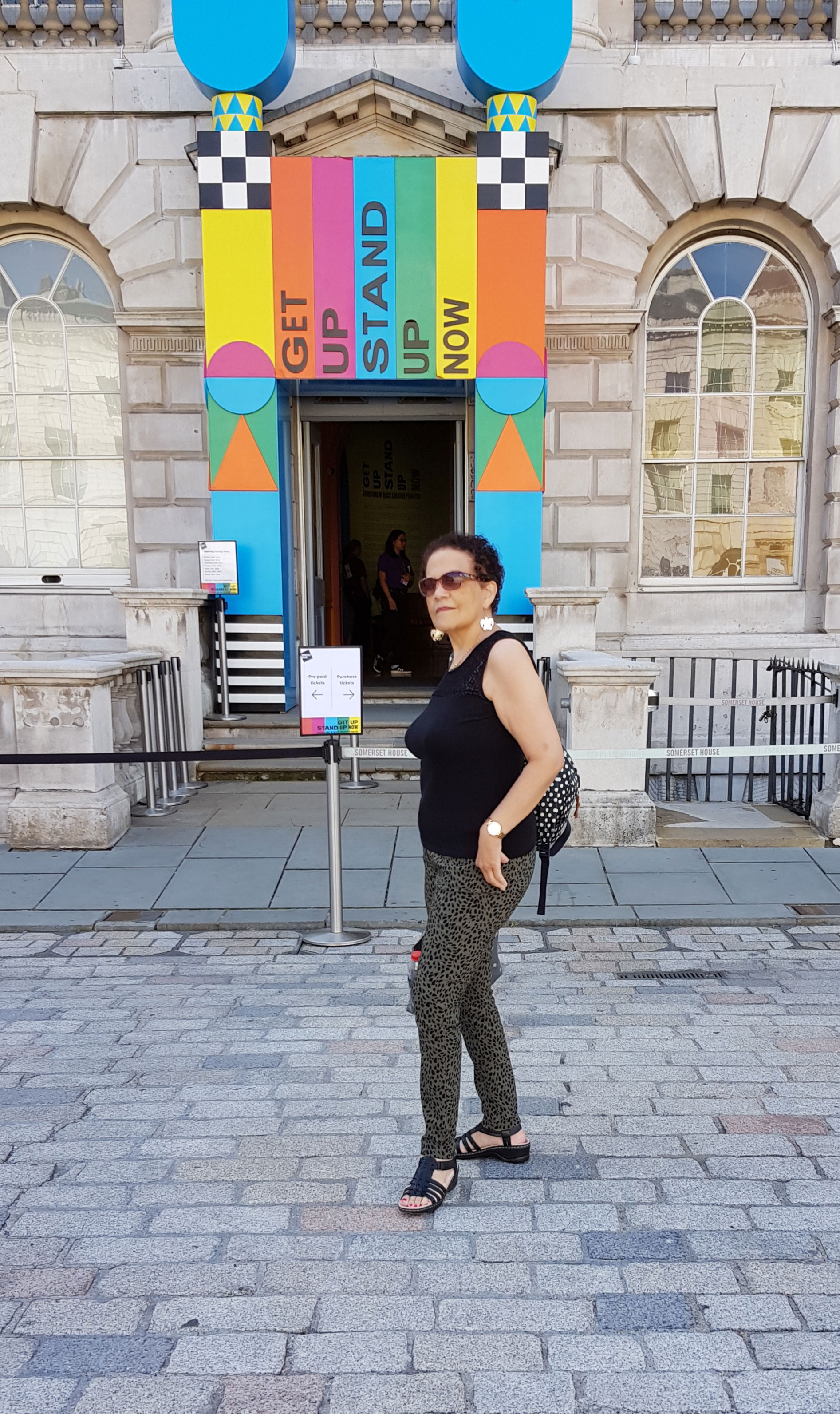 Me outside 'Get Up, Stand Up Now' EntranceDespite being the end of summer, it was a gorgeous day when I visited Get Up, Stand Up Now - Generations of Black Creative Pioneers. This was my first visit to Somerset House and I was impressed with the venue – its beautiful courtyards – enough to make a short video:
Apologies for the fingers and thumbs that got into one of the scenes, I just wanted to give you a flavour of my experience. My video making isn't usually so spontaneous!
The Exhibition:
Get Up, Stand Up Now celebrated 50 years of Black creativity in Britain and beyond. Curated by Zak Ove and inspired by his father, Horace Ove, filmmaker, the exhibition showcased 100 artists for the first time across disciplines that explored five main themes: Mother, Dream to Change the World, Masquerades, Imaginary Landscapes and Mothership. Very eclectic indeed!
The above video features the radical filmmaker Horace Ove and his son Zak Ove,
Curator of Get Up, Stand Up Now, reflecting on the themes explored in the exhibition.
Poetry and photographs adorned the multi-coloured corridor walls along the ground floor. Numerous rooms provided ample space for everyone to explore with ease this iconic showcase with its digital media of individual headphones connected to small plasma TVs. Familiar sounds and artefacts that belong to Black creativity going back 50 years, especially the boom boxes and sound system speakers, took me back to the 70s; it was easy to relate.
It was great to tune into a film about Notting Hill Carnival as it was back in the day, be uplifted by a vast range of artwork and sculptures, including a few nice touches – a photo of author Zadie Smith as a baby with her mother Yvonne Bailey-Smith and a favourite poem of mine by Guyanese poet Grace Nicols 'Wherever I Hang'.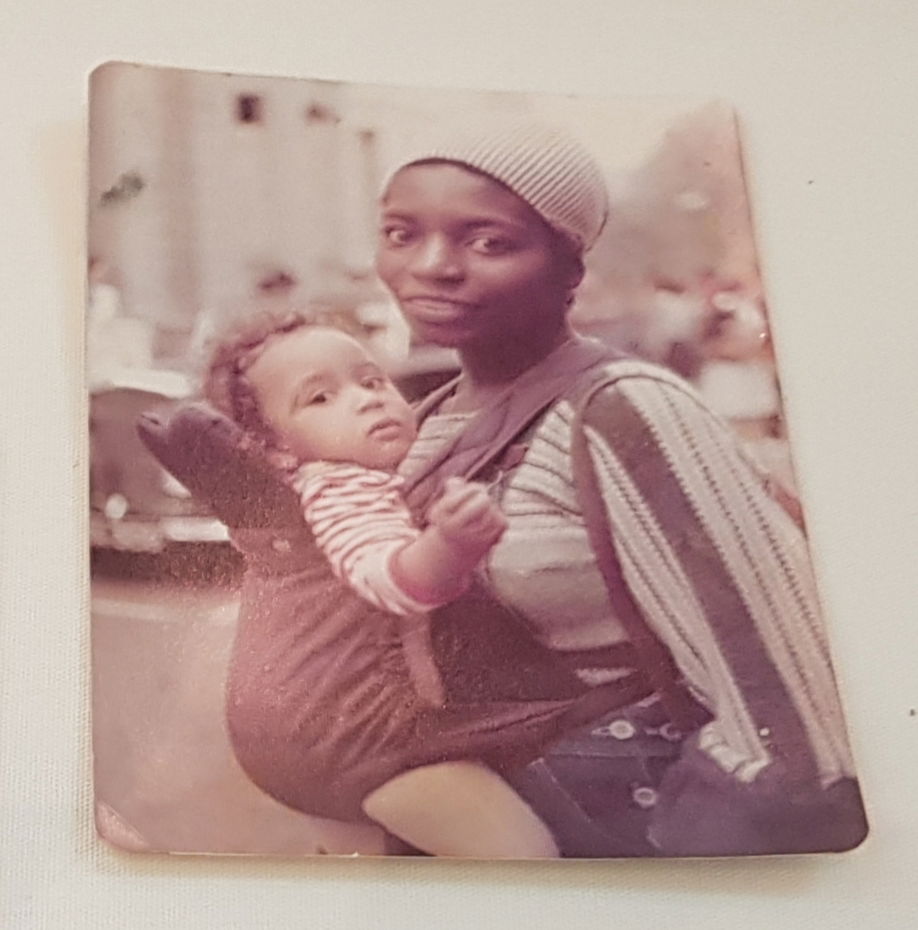 Zadie Smith, born 1975, London, England,
'My First Carnival, with my mother,
Yvonne Bailey-Smith, Summer 1976'


'Wherever I Hang' by Grace Nicols,
born 1950, Georgetown, GuyanaMixed Feelings
I have to admit that I have mixed feelings about Get Up, Stand Up Now. It was definitely an excellent celebrational event attracting a culturally diverse audience with Black people being in the majority. But I'm not sure any curator can do justice to the last 50 years of Black creativity in one exhibition with themes that were disjointed.
Eddy Frankel's Review
I am somewhat in agreement with Eddy Frankel, Time Out London's Art & Culture Editor, who states in his two-star review that, "By trying to say too much, this chaotic mess of an exhibition is so broad and hectic that it doesn't actually tell you anything at all."
Eddy Frankel argues that "Even as a 'snapshot' of black creativity it doesn't work. 'Soul of the Nation: Art in the Age of Black Power' at the Tate in 2017 was a brilliant exhibition because it zeroed in on a specific era of Black art and really focused on it, the same thing 'The Place Is Here' did it for 1980s art at the South London Gallery the same year."
Eddy Frankel does have a point although I would have given Get Up, Stand Up Now at least 3 stars. I took my family to 'Soul of a Nation ...'on July 22nd 2017. This exhibition was of a similar size with its 12 rooms and succeeded in capturing a time starting with 1963 and the Civil Rights Movement. Artists who responded to these challenging times with their vibrant paintings, powerful murals, collage, photography, revolutionary clothing designs and sculptures were presented in a holistic way, which made for a far greater impact and was a powerful and dramatic reminder of the 1960s Black Power era.
Conclusion:
Get Up, Stand Up Now was my last visit to an art exhibition this year. Despite the issues raised above, I'm pleased I went. It's easy to criticise from a distance when we go to view exhibitions but it's important that we acknowledge the hardwork that goes into putting something of this magnitude and capacity together.
However, I'd really like to see more exhibitions in mainstream venues showcasing artwork that features Black artists globally and especially those artists whose practice stems from Britain. Maybe future exhibits could home in on one themed aspect and not aim for 100 artists and go for a more feasible number like 20 - 30?
Black artists are not a rare entity in the UK; they are out there. In the small town of Wellingborough, Northamptonshire, where I'm based, I know of at least ten Black artists.
It's not often I see or experience events like Get Up, Stand Up Now when I visit art galleries. It is quite rare; I want it to be less rare.
I leave you with Somerset Houses's commitment to Diversity and Inclusion.
Cover Image: Robert Keane / Unsplash
* * *
As usual I look forward to reading your comments.
Please do subscribe to my blog by submitting your email address below.