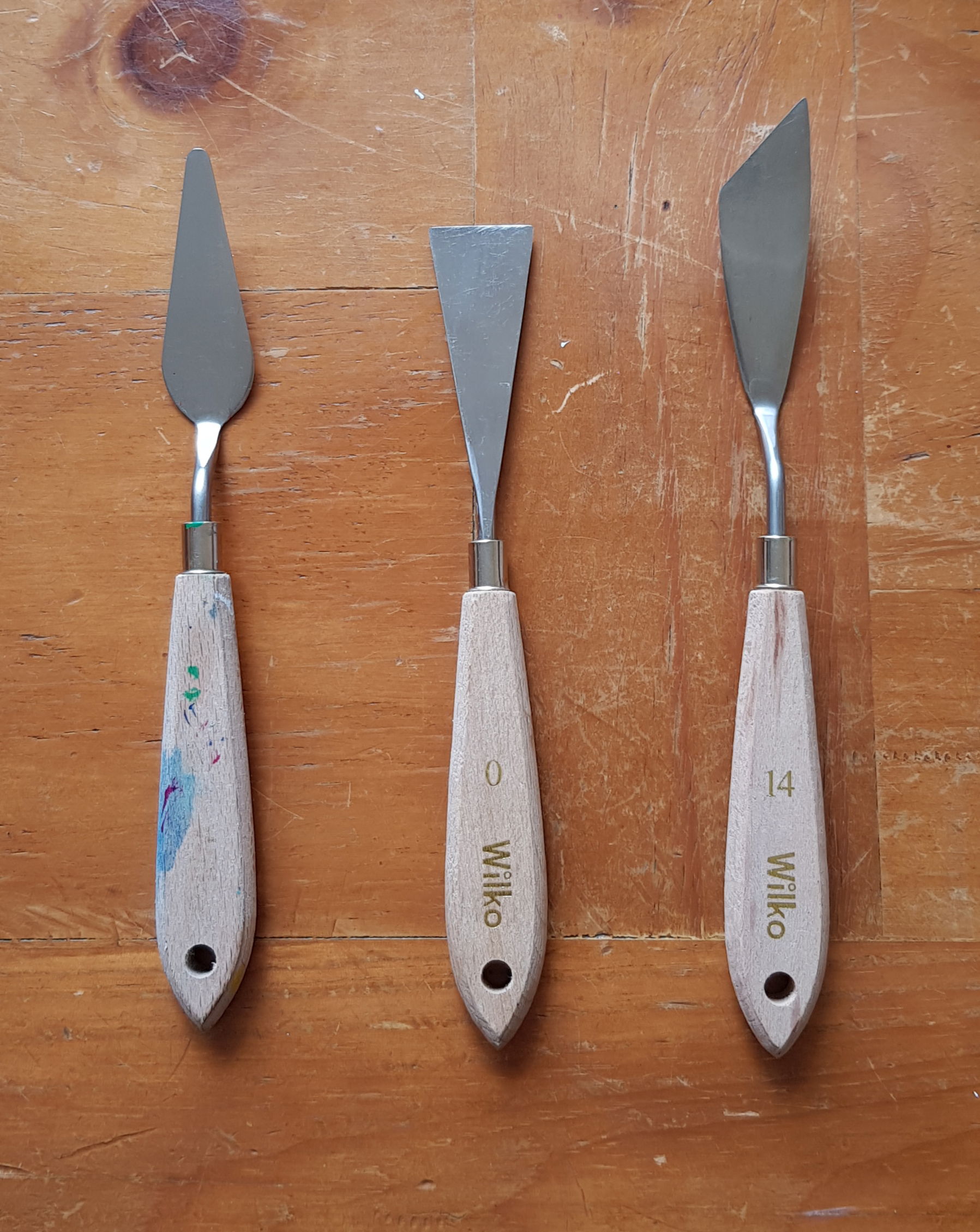 My Set of Palette KnivesWhy Use Palette Knives?
Palette knives are very versatile, they're typically used to mix paints on a canvas but they can be used instead of a brush to apply acrylic and oil paint. They can also be used to scrape paint off of a canvas.
Unlike buttering bread, more like spreading frosting on a cake, gives you some idea of the textual options when you use a palette knife to create a painting.
So if your looking to add depth to your paintings, palette knives can provide a really different painting style. Textured layers can be added and/or taken away to create a unique painting or change its look.
Abstract in Acrylic on Canvas Board
Wet-on-Wet Technique is Tricky
The above piece of abstract art was made with the guidance of a Skillshare Tutorial: Abstract Painting: Palette Knife and Dripping Techniques by Suzanne Kurilla.
Like most techniques, there's an art to using palette knives. It can be a bit tricky layering wet-on-wet with acrylic paint. With my painting, I was careful not to let the colours blend into a murky/muddy consistency. You just need to let the paint layers dry a bit first and acrylic paint doesn't take long to dry.
For my version, I used a canvas board instead of a stretched canvas and I used Liquitex Professional Heavy Body acrylic paint. For the edges, I used a paint brush (good idea from Suzanne) and swapped one of the colours - Bronze Yellow for Cadmium Yellow. That's the good thing about taking a tutorial, you can use them to explore your own colour scheme.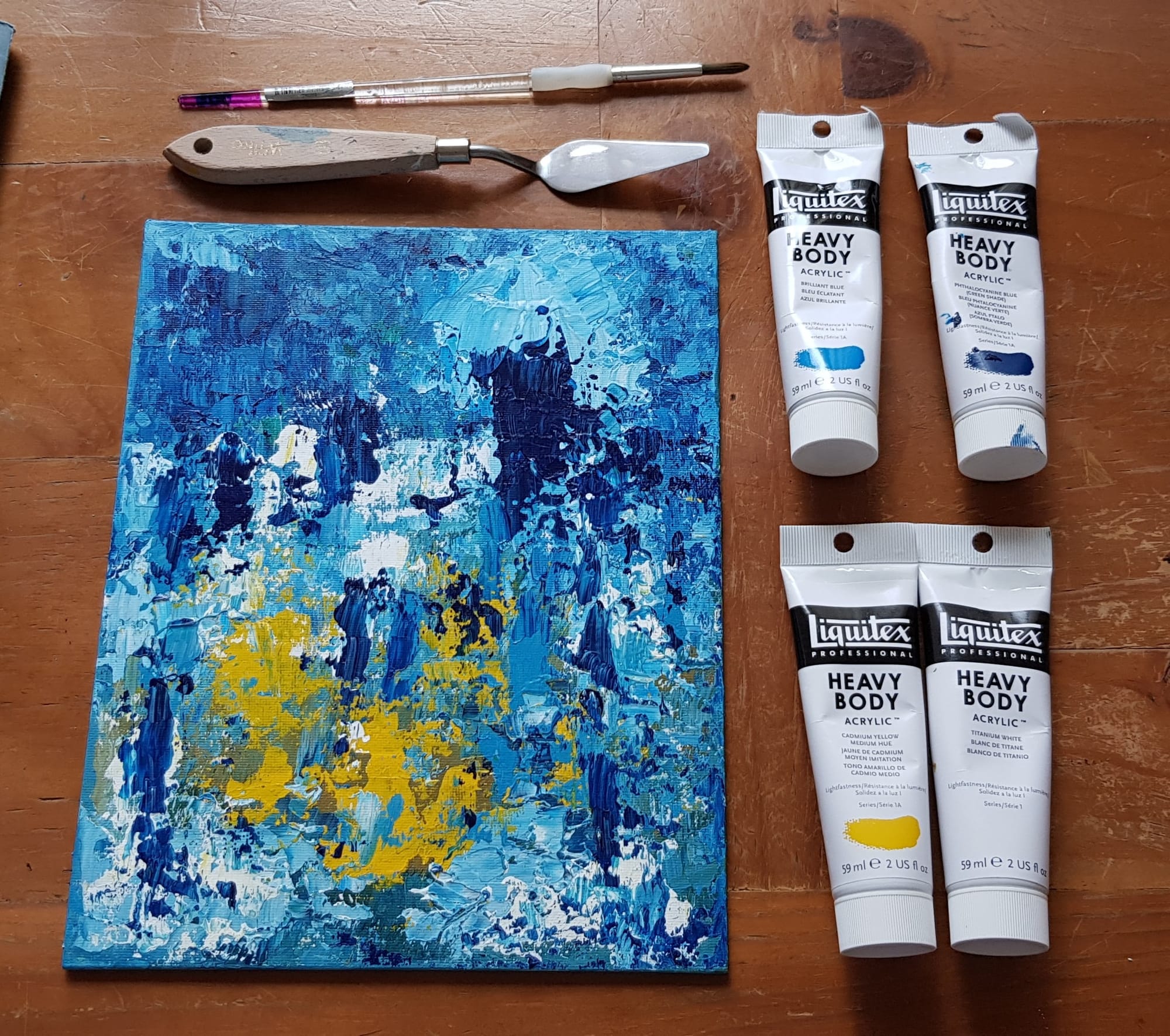 Paints used: Liquitex Professional Heavy Body Acrylic Paint: Blue (Green Shade), Brilliant Blue, Titanium White, Cadmium YellowAccording to Suzanne, the colours used throughout the tutorial were inspired by the summertime and beach vibes. Yes, I do get that vibe when I look at what I ended up painting. What vibe do you get when you look at my painting?
I joined Skillshare in 2018 to take advantage of a two months' free offer. I found the online tutorials very helpful. Below are a few I signed up for. There are literally thousands to choose from.
Illustration & Inspiration: Keeping a Sketchbook by Leah Goren
Maasai Warriors: Acrylic Painting Project by Em Winn
Abstract Art with a Twist: Personalise Kandinsky
Draw Your Life: Intro to Illustrated Journaling by Mimi Chao
Recently, I joined Skillshare Premium and for the first month it was only £9.10. Thereafter, it will be £13 month, with the option to cancel at any time. Skillshare is definitely worth joining as there is something for everyone and there are often special offers so do check them out!
Let me know in the Comments section, if you've tried using a palette knife and how the technique has impacted on your art-making, particularly when using acrylic paint.
Don't forget to subscribe to my blog by submitting your email address below.