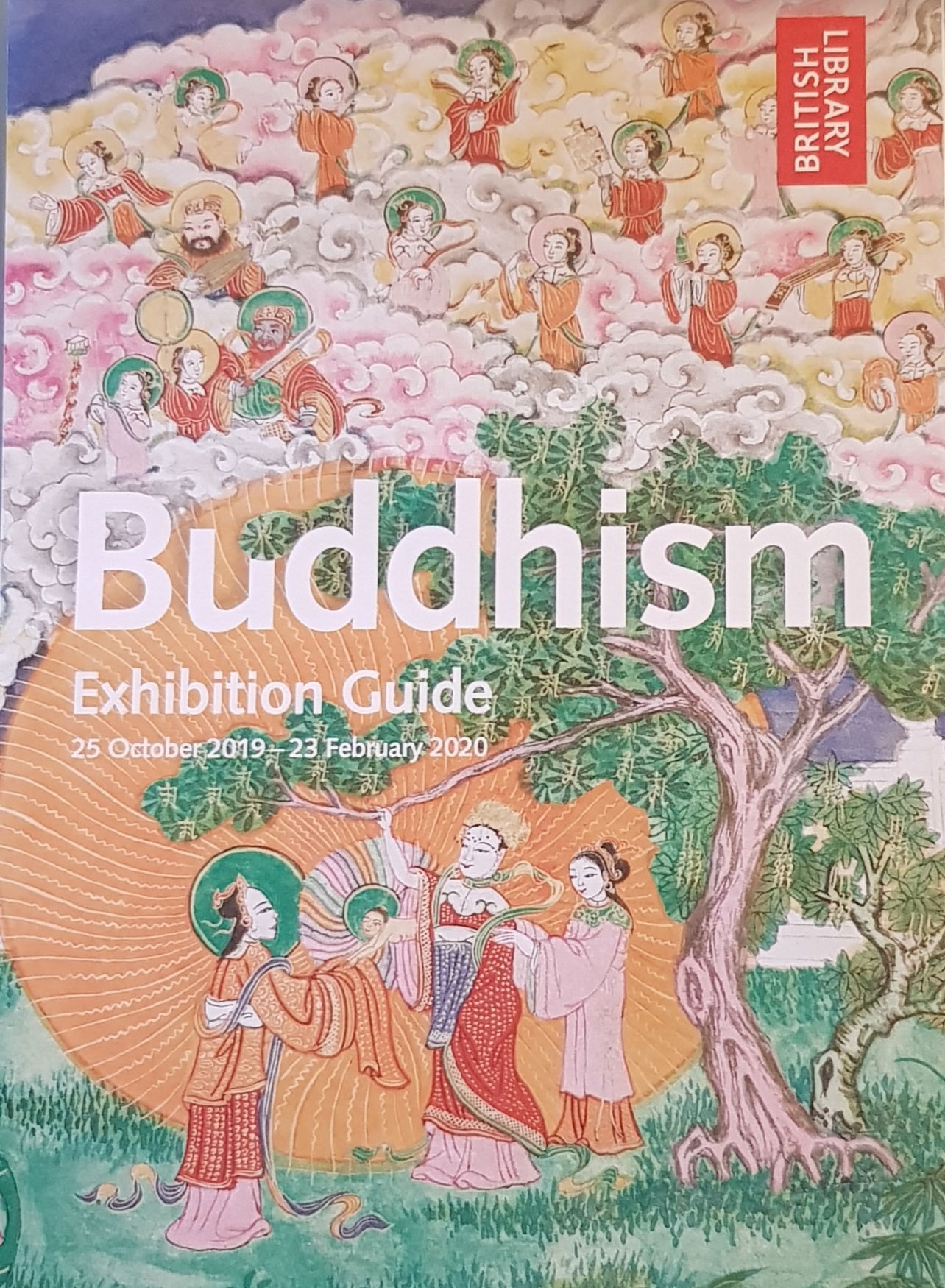 Buddhist Exhibition Leaflet
Cover image: Prince Siddhartha's birth depicted in a woodblock printed folding book in four volumes containing scenes from the Life of Buddha, China 1808,
copyright British LibraryOn 20th February, I visited the British Library in London to see the Buddhist Exhibition. This rare collection is the largest exhibition of its kind ever held in the British Library and included elegant and delicate Buddhist manuscripts, scrolls, precious artefacts and stunning illuminated books spanning 2,000 years and 20 countries. And let's not forget the artwork.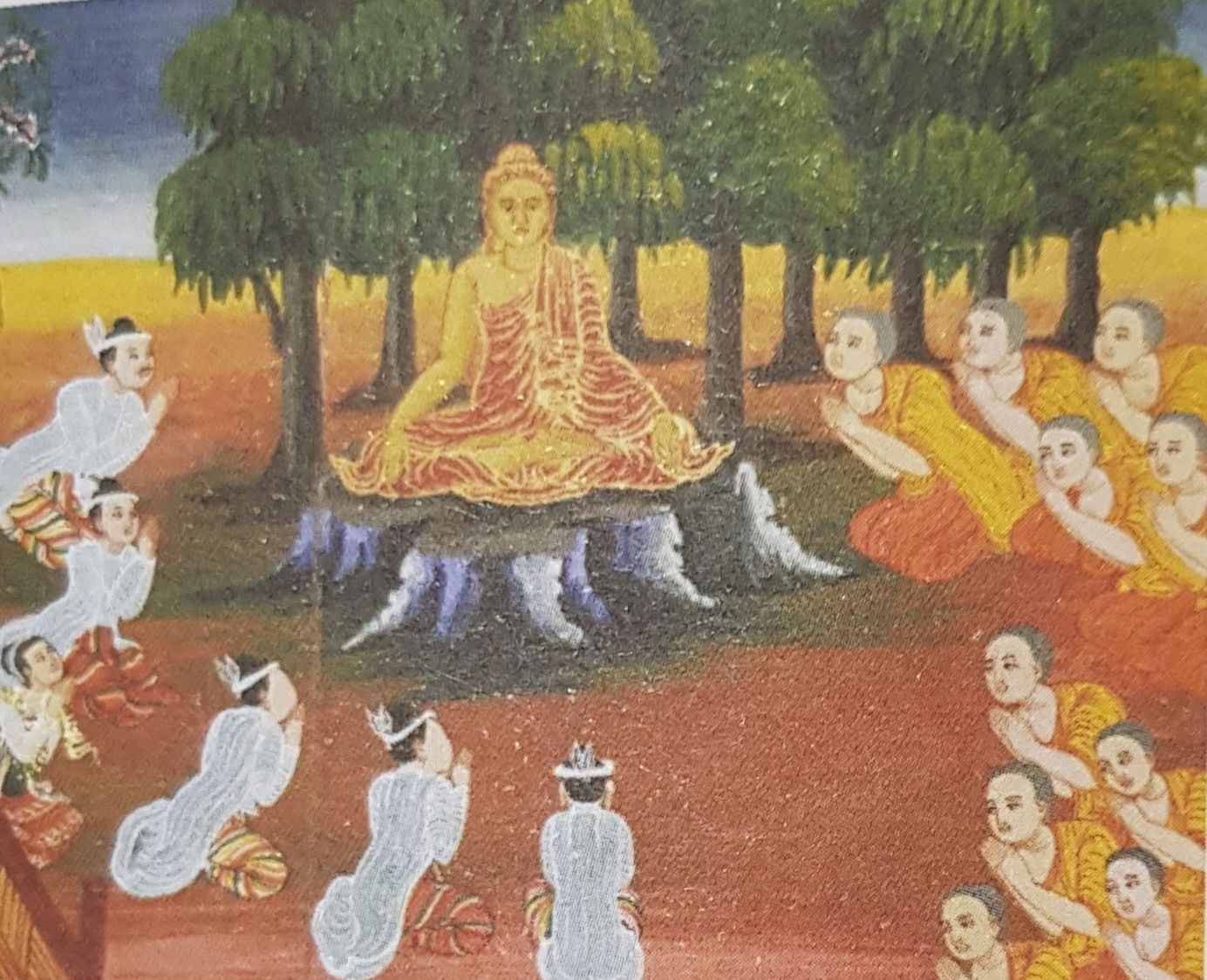 Buddhist Exhibition Leaflet Inside Cover Image: Scenes from the Life of the Buddha, Burma, 19th century, copyright British Library Picture lots of vibrant and fascinating art with lots of red and gold – yes especially those shiny gold Buddha statues! There was lots of green too. The stunning artwork with its great attention to detail, demonstrated how the life of the Buddha unfolded and what inspires Buddhist practice.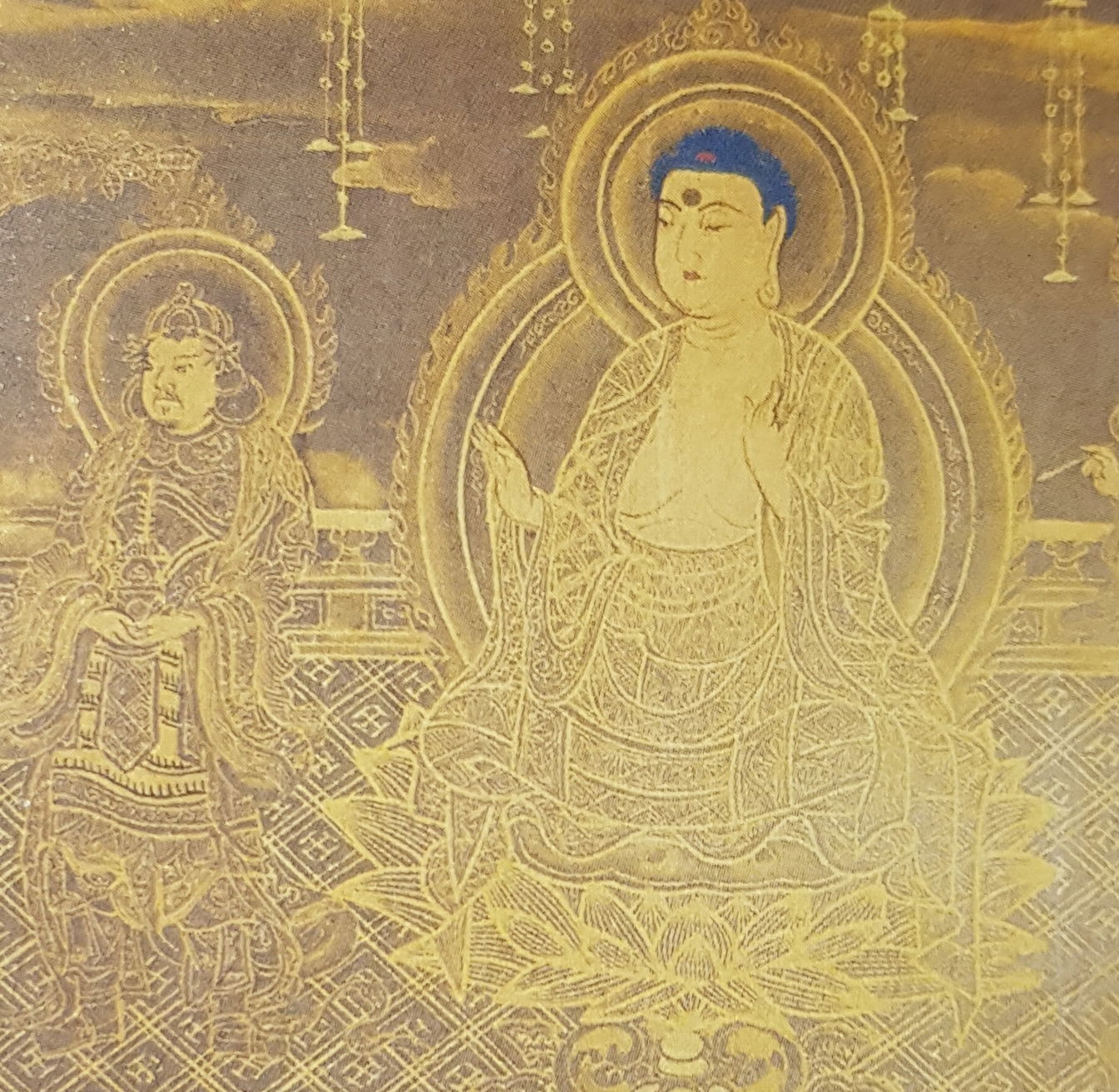 Buddhist Exhibition Leaflet Inside Cover Image: Illumination of the Lotus Sutra, Japan, 1636, copyright British Library The exhibition's depth of content embraced how Buddhism grew from its beginnings in 6th century BCE India to having over 500 million international followers today, nearly 300,000 of whom live in the UK. There are three main traditions of Buddhism: Theravada, Mahayana and Vajrayana. Its followers seek to overcome suffering through morality, wisdom and meditation.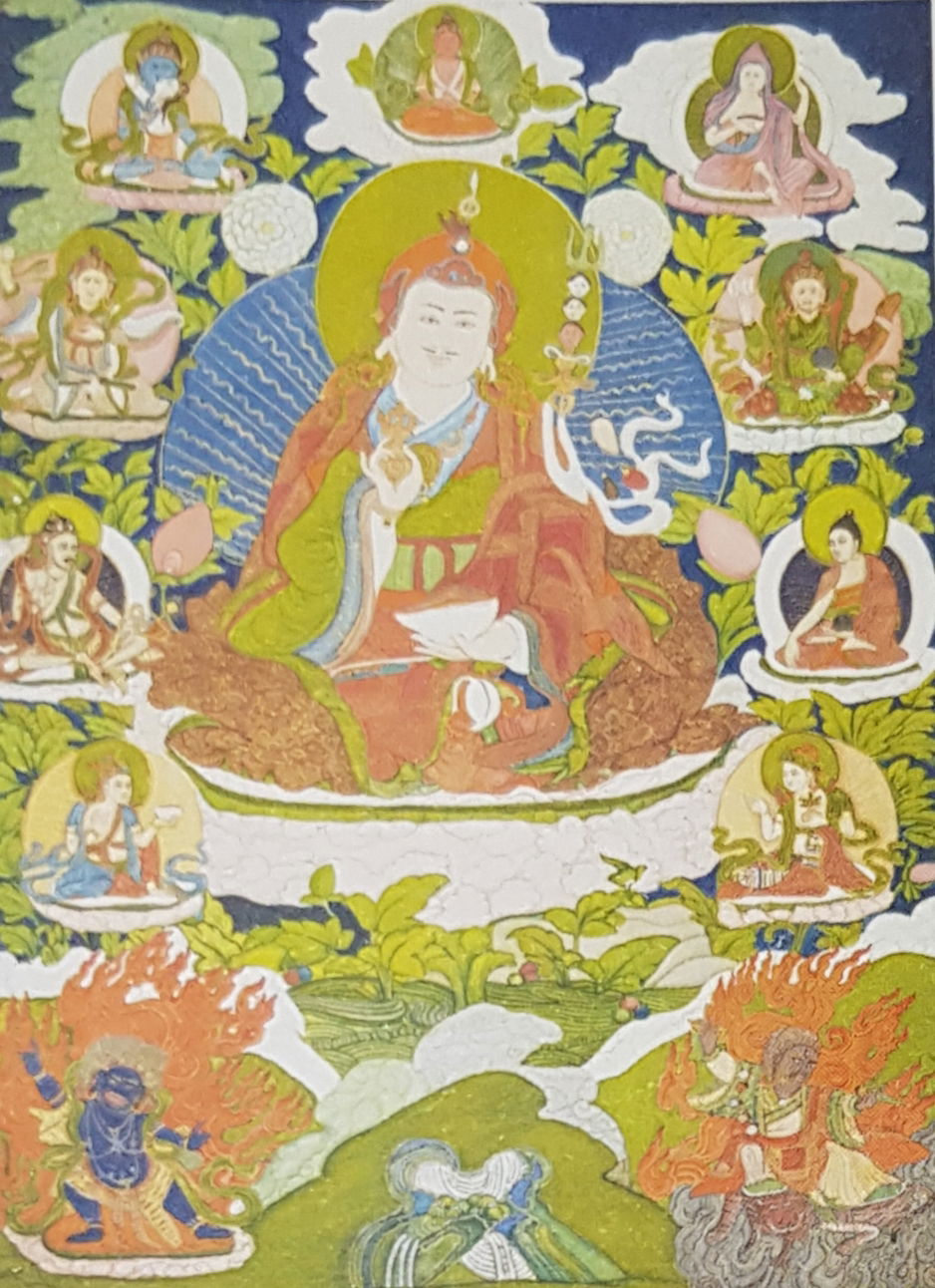 Buddhist Exhibition Leaflet Inside Cover Image: Thangka painting of Padmasambhava, India, 1788-1805, copyright British LibraryBuddhism was pivotal in developing writing and printing techniques, transmitting ideas and stories across Asia. Women's stories were told through Buddhist scripture. Sacred texts were written on tree bark, palm leaves and gold plates.
The Buddhism Exhibition was impressive, the curation splendid … so much thoughtfulness and grace. In fact I felt reluctant to take photos. I wanted to remember and retain the experience as a visual, spiritual, and experiential one. But I can share a few Buddha Heads I painted a few years ago:
Buddha Heads:
Nicole Moore, Buddha Head with butterflies, 2018, watercolour and ink on Crawford & Black Sketch Pad A5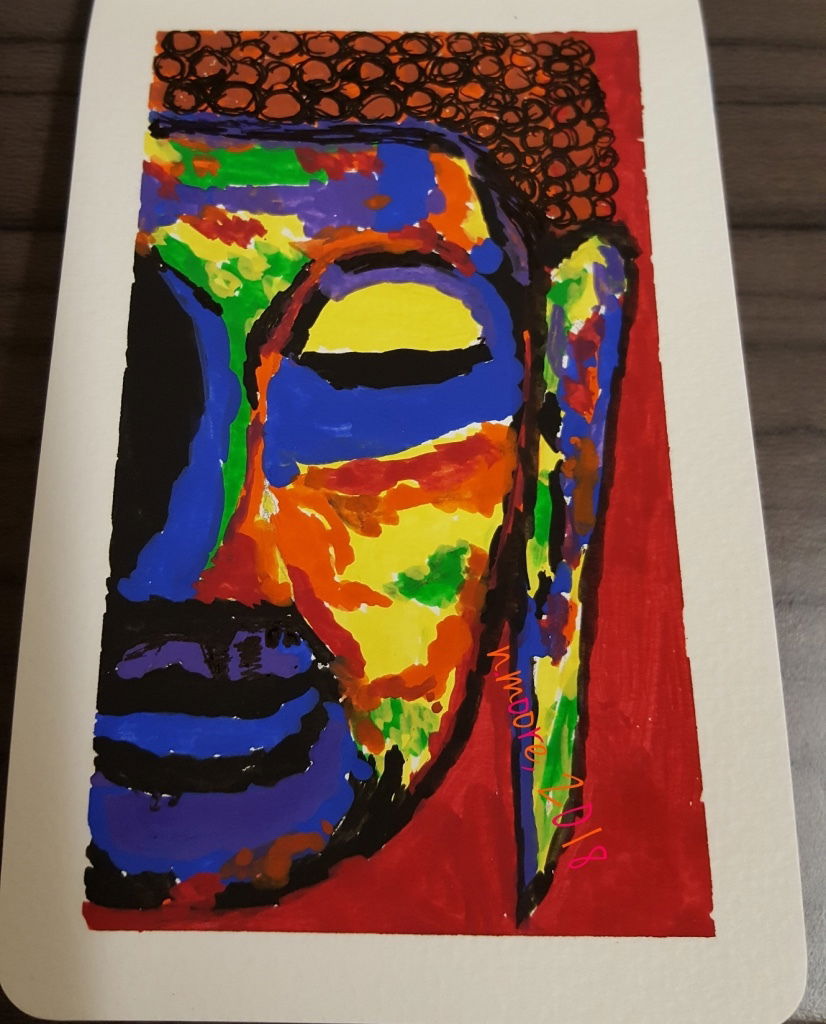 Nicole Moore, Buddha Head in red background, 2018, gouache on Moleskine Journal 5.5" x 3.5"
I really enjoyed painting the two Buddha Heads above although the hair was challenging. I always find making art therapeutic, maybe the impression of meditation helped as I lost track of time being in the present moment.
The Buddha is well represented in many iconographic forms and regarded as one of the most important parts of the body of the Buddha. Along with many Buddha statues and images, Buddha Heads have been one of the most popular iconographic representations of the Buddha and his characteristics.
According to Nicole Diez in her blog post, The Mystical Buddha Head, she writes "Buddha heads are the icon of confidence, awareness, knowledge, compassion and concentrated meditative practices. Each and every faculty of the Buddha head symbolises a hidden meaning, philosophy and history."
Reflections on Meditation: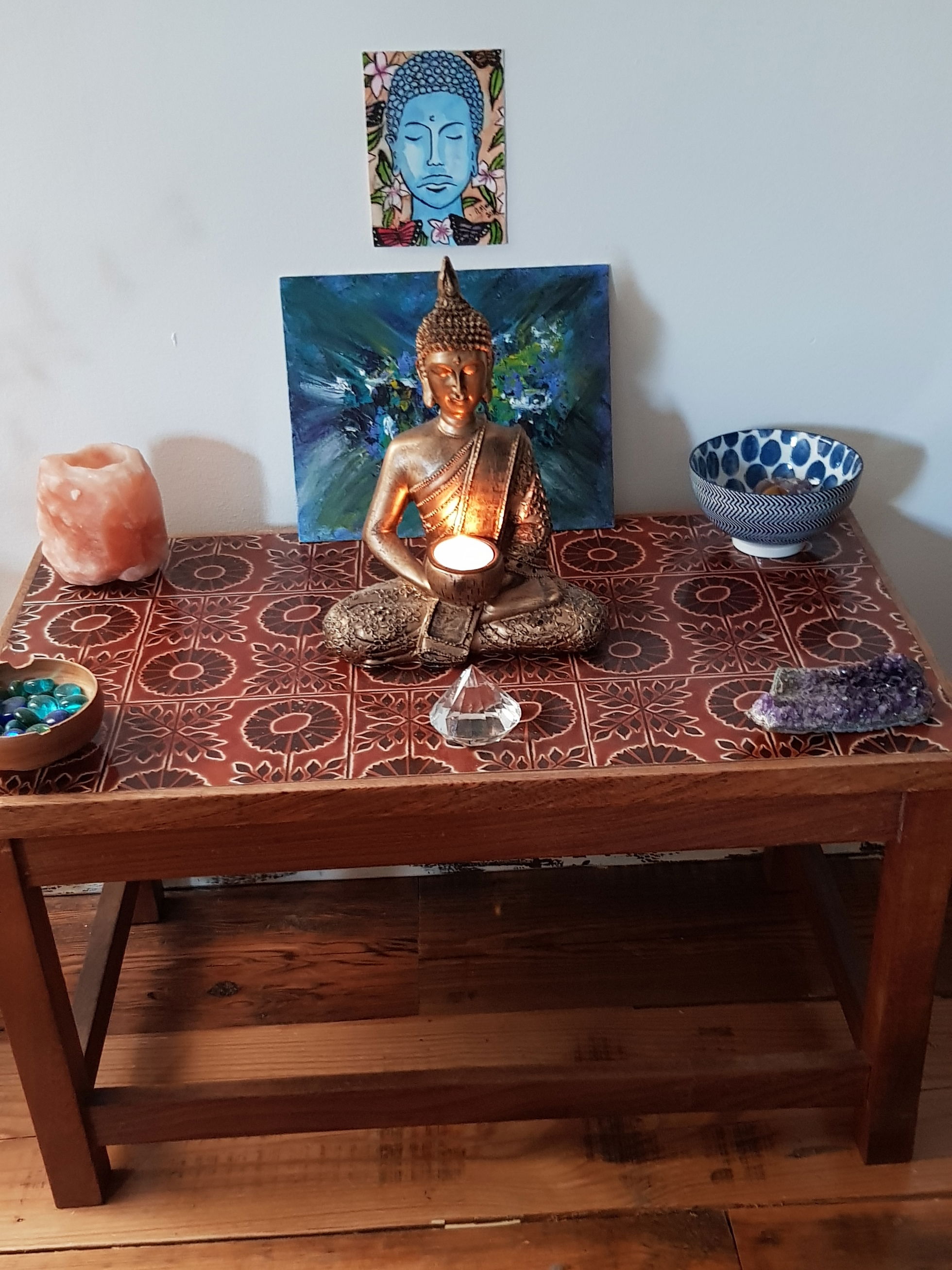 My Meditation TableOn a personal note, the Buddhism Exhibition was an attraction I couldn't ignore as I've been interested in Buddhist philosophy ever since I visited the Buddhist Centre in Bethnal Green, London in the 1990s with my then teenage son. We both enjoyed the mind, body, spirit experience, especially as the Buddhist Centre is such a humbling and peaceful spiritual space.
Group meditation started as far back as the 1980s when I attended an Introductory Practical Philosophy Course at the School of Philosophy and Economic Science, in London. Meditation has been a work in progress ever since.
My Buddha statue (above) serves two purposes as it has aesthetic and spiritual qualities; it has helped with creating a sacred space and is the focal point on my meditation table. Having these items around when I meditate helps keep my attention focused.
More recently, within the last month, I've made more of a commitment to study the Buddhist philosophy, in much more depth and to consider taking up its discipline which has already proved to be significantly beneficial.
I've been watching Discovering Buddhism, a 14 Module Programme available on YouTube. The first 13 modules include a 30-minute video introduced by Richard Gere or Keanu Reeves, followed by a Tibetan or Westerner teaching the subject and an informal conversation with a Western student. Each module can be watched as a stand-alone video and each one has such a lot of wise and inspirational content.
The Buddhism exhibition has really helped me see the bigger picture and it has been a real bonus that whilst doing that I was absorbing all that amazing Buddhist art.
The Buddhism Exhibition ran from 25 October 2019 to 23 February 2020.
Cover Image: Pixabay
To subscribe to my blog, you just have to submit your email address below.