Happy New Year and Welcome to 2020!
This is a snapshot of my art journey last year. As well as those inspiring visits to art exhibitions and fairs, here's my take on 2019, which includes art-related activities, sprinkled with a few of my artwork pieces:
January - Art Inventory
Keeping track of artwork is something I hadn't thought about until this year. I knew I had at least over 50 pieces of artwork and started to feel as though it might be difficult to organise these, especially as they were in different formats and kept in different places.
Designing my website in November 2018 was the catalyst as I started to keep the website gallery images in a specific place. I just needed to arrange all of my pieces.
After researching on the Internet and almost going down the road of buying software, I came across an article, 'How to Inventory Your Artwork', dated July 1st, 2015, by Press Arts Editor Donald Kolberg. He has designed a handwritten manual inventory that is straightforward enough. There is an option to transfer the information to an Excel spreadsheet, but I haven't found the need.
I completed my inventory by spending a few hours every Sunday in January (it's both tedious and satisfying once you get into it) which currently runs from 30th June 2015 to 31st October 2018 (excluding 2016) and includes 70 pieces of artwork.
Following Donald Kolberg's method, I used a naming convention – Year/Month/ID Number – starting with 15-06-01, and columns: Title, Size, Medium, Description, Theme/Series and Location. I entered the data into a ruled composition book, using several two-page spreads.
February - Art Journalling
Art journalling is something I have spent a little time on this year but I have enjoyed keeping it going from time to time. The journal I use is an Artway Enviro-Casebound Sketchbook - 100% Recycled Cartridge Paper with a Hardboard Cover 170 gsm 92 sides - A5 Landscape. It cost £6.49 from Amazon UK.
With a mixed media approach, entries have been collage, written notes reflecting on visits to art events, especially before I started this blog, paint studies, colour studies and the occasional painting.
Here are two pieces that I enjoyed doing with an abstract realism theme. The Mask piece reminded me of an African mask. The Impressions piece was a smaller take on Impressions No. 5, displayed under this website gallery's Abstract Realism Portraiture.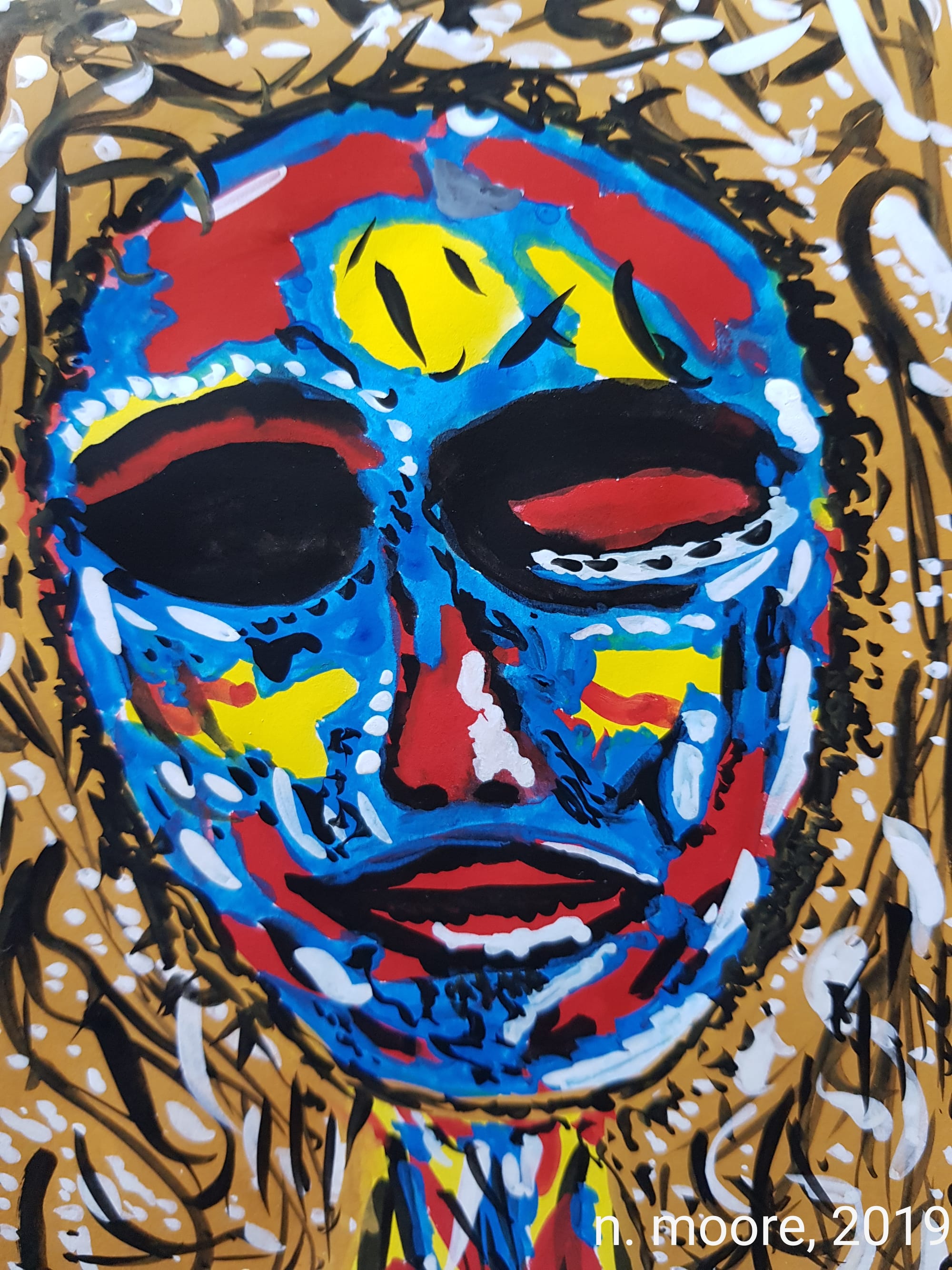 Nicole Moore, Mask, 2019, gouache
on Enviro Sketchbook, A5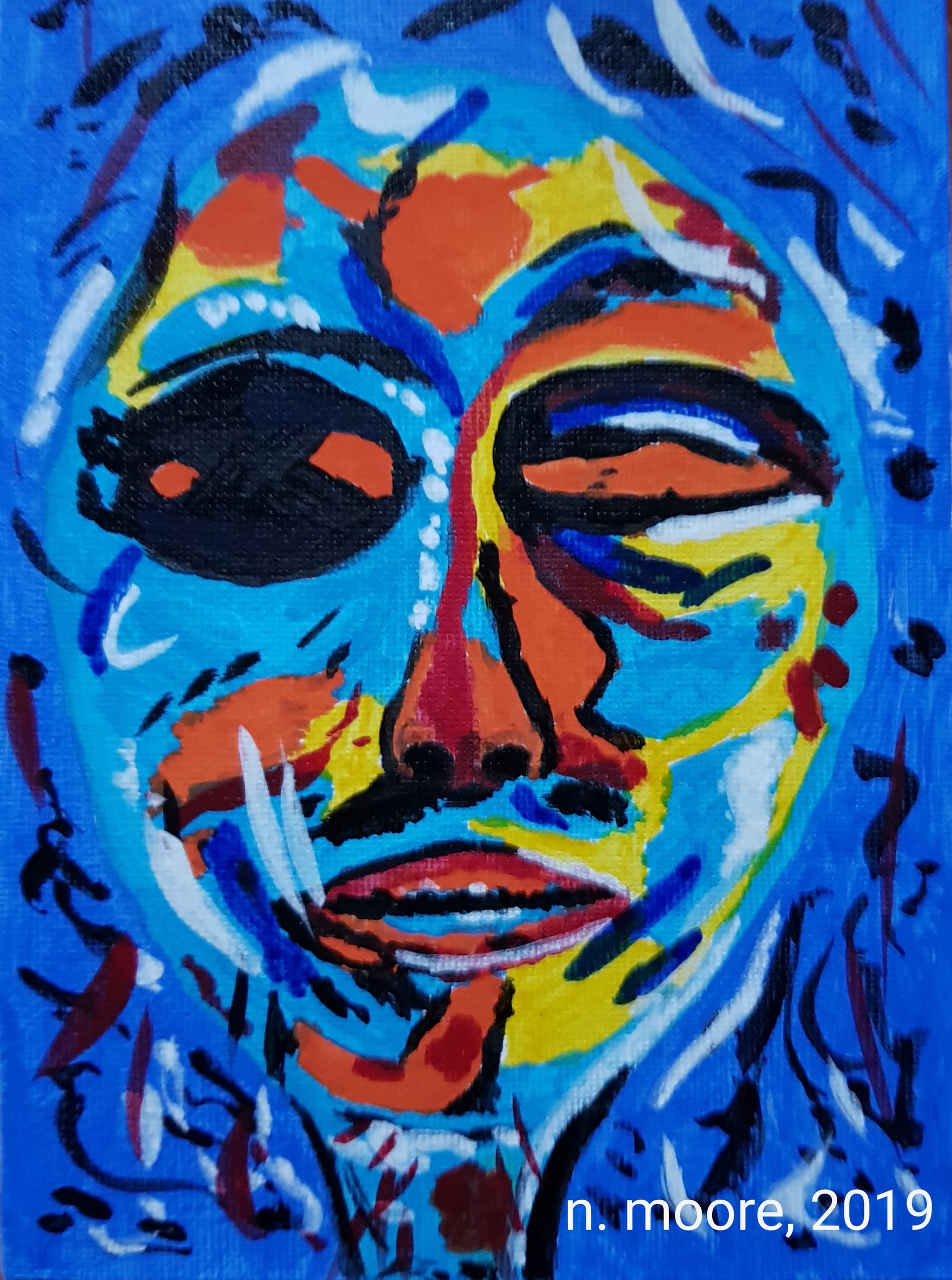 Nicole Moore, Impressions, 2019, mixed media on Enviro Sketchbook, A5
March - Reading: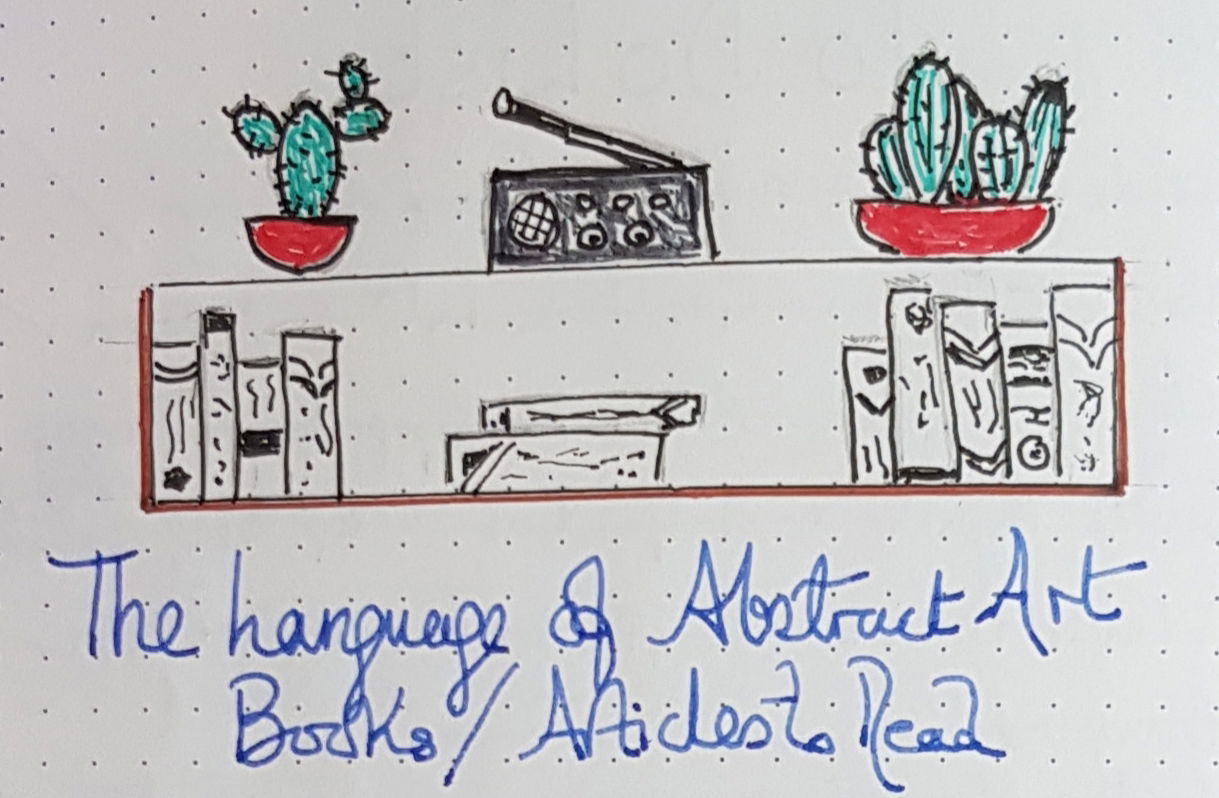 Nicole Moore, Reading List Doodle, 2019 on Scribbles that Matter Bullet Journal A5
Most of my reading carried on throughout the year, but it started in March, when I gave myself the challenge of reading articles on the language of abstract art. Here are the best five listed in my bullet journal:
The Basics of Abstract Painting You Should Know by Evangeline Delaware on CANVAS, a blog by Saatchi Art;
Abstract Art: The Visual Language of Emotion by bluethumb - Home of Australian Artists;
Seeing Round Corners: The Art of the Circle review - the joy of life in the round - by Laura Cumming in The Guardian: Observer Art 29/05/2016
Abstract Art - Art Terms/Tate;
What is Abstract Art? Meaning and Definition of Art Informel by Lorenzo Pereira on Widewalls.
April - New Art Blog Launched:
The beauty of writing an art blog is that you get to use both your writing and art practice. It's a great visual and literary way to document your art journey's activities. A personal benefit is that you'll create an online record of your work and progression as an artist.
It can be challenging posting regularly as it takes time and can seem like a distraction from the real work at hand: creating art! But the benefits of blogging far outweigh those challenges. Since writing blog posts here, my creative vision has expanded as writing each post has called for me to go on a journey of itself.
I have found writing these blog posts this year extremely gratifying; it's a platform on which I can share ideas, get feedback, reach out and communicate with my audience.
I'd like to send out a special thank you to my subscribers, especially Margaret Joseph and Jenny Labbon, for leaving their insightful comments on my blog posts. I always look forward to reading them!
May - FPAA Showcase: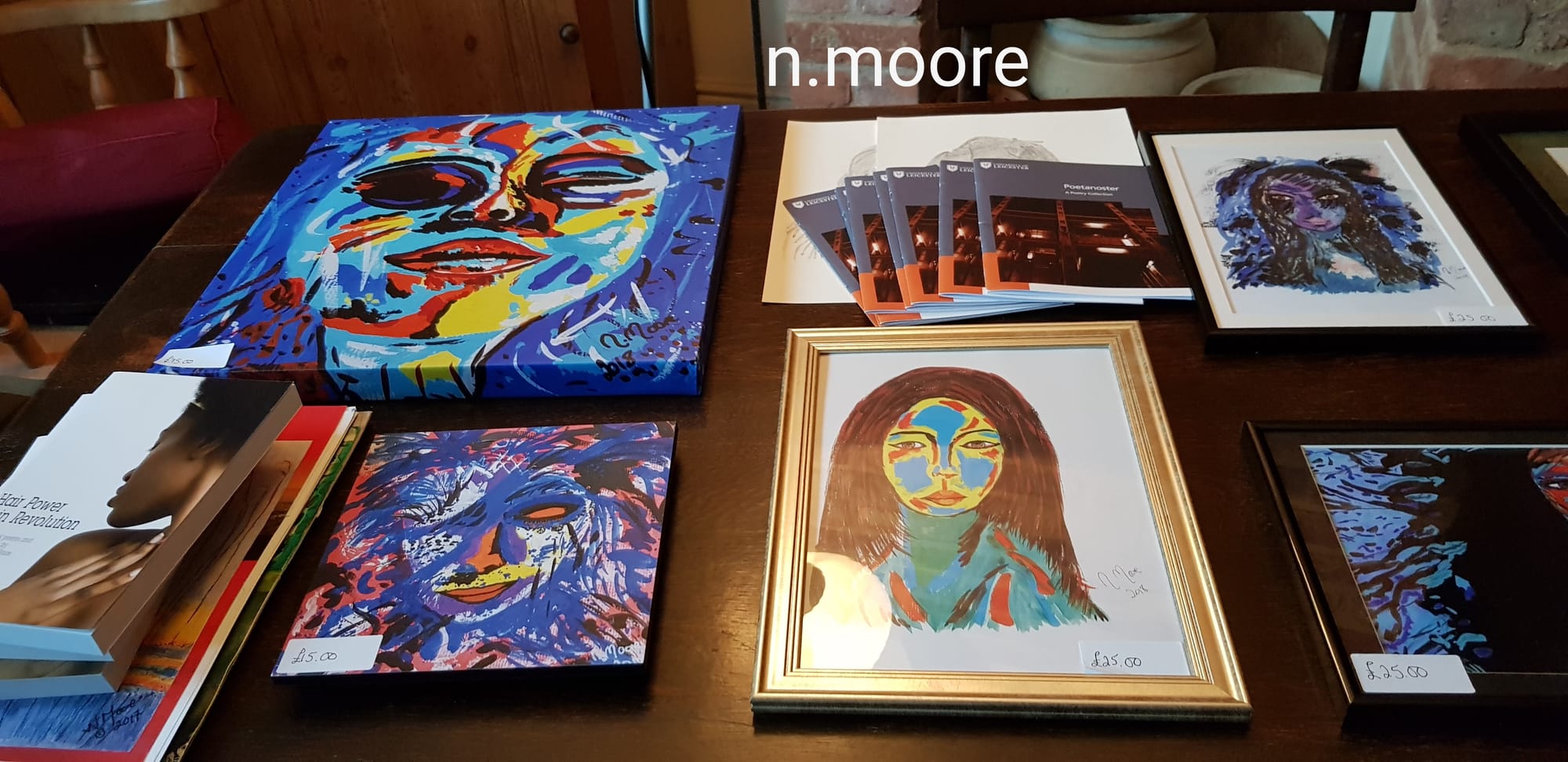 Selected Artworks 2018 for sale at FPAA:
Original Framed Prints,
Canvas Print, Photo Tiles
The Fellowship of Professional and Amateur Artists (FPAA) was founded in 1999 by Rushden-based John Frederick Black.The aim of the Fellowship is to bring together people who share a deep interest in art and to foster and develop practical skills through education, workshops and exhibitions.
John Frederick Black runs General Painting sessions and Life sessions a few times a week at The Shed (Rushden) and in June 2015, I attended my first painting session with him. You can find out more about that under the FAQ section of this website labelled 'How did you learn to draw and paint'.
I came across FPAA when searching for a poetry group! Yes, hosted by Tony Roberts, a poetry group meets on the last Friday of the month at his 'Corner Cottage' in Barton Seagrave, a village in Kettering, Northamptonshire.
I was invited to deliver a presentation on May 31st, about my writing journey which spans 25 years and to showcase my artwork. I was also given the opportunity to sell prints of a few of my pieces. Although it was a bit of a learning curve, this was an opportunity that I just couldn't miss.
The organising and structure of everything took about two weeks and involved lots of practical tasks – buying prints, price stickers, bubble wrap, writing the handouts and selecting the artwork for display.
This was the first time I had the chance to discuss my art journey with a live audience. The presentation preparation took up a lot of my heart and soul and creative energy.
I learned a lot from the experience and was grateful for the support I received during the whole process, especially from Tony who provided the space and tasty refreshments.
June - Art Journey Celebration Artwork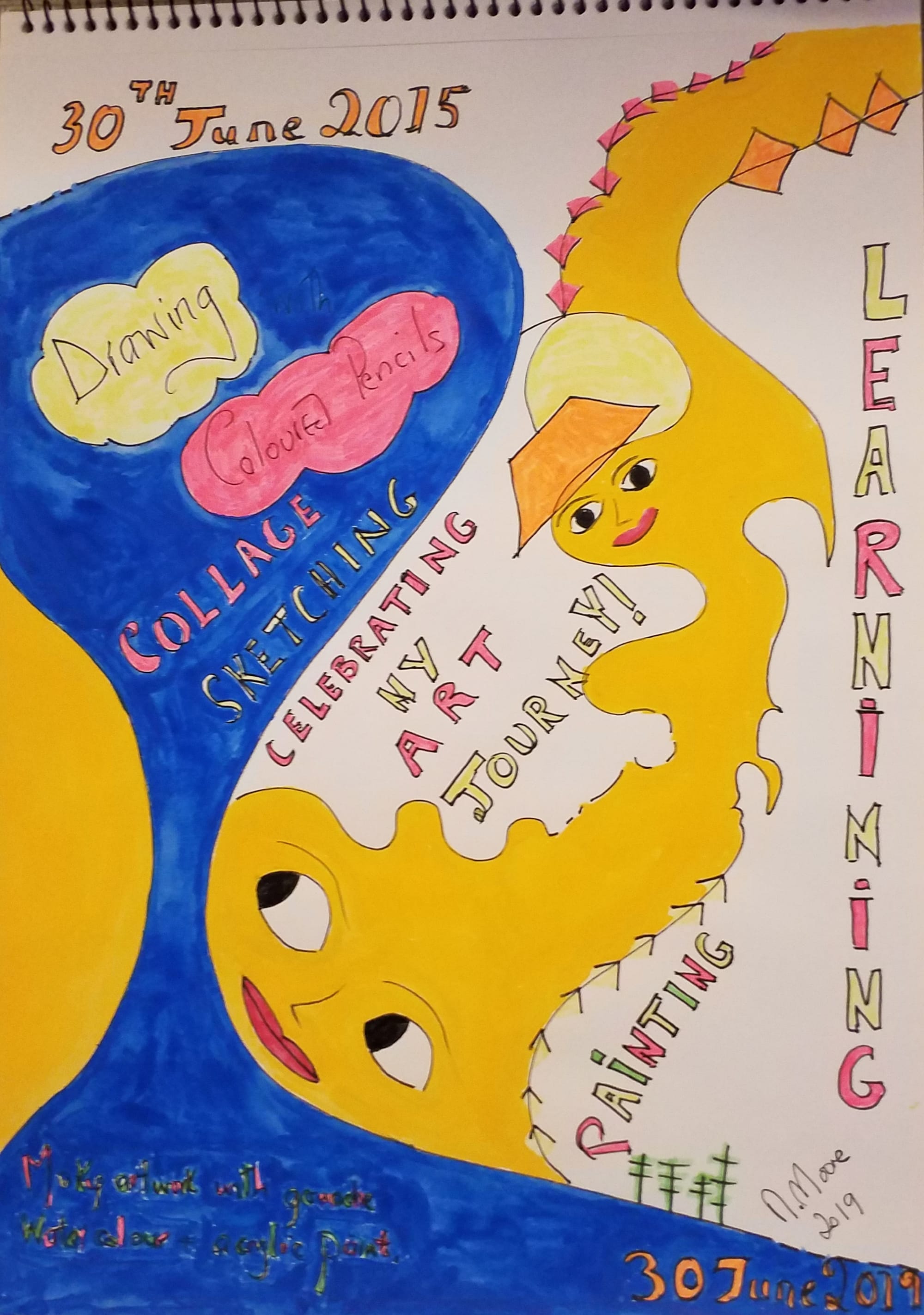 Nicole Moore, Art Journey Celebration, 2019 mixed media on Crawford & Black
A3 Sketch PadJune 30th, 2019 prompted me to draw something to commemorate my art journey which kicked off on 30th June 2015. This is a new style of spontaneous abstract artwork. I'll be adding a preview video of more pieces like this in the August section.
The expression 'the journey is more important than the destination' has been one of my mantras throughout my everyday life. So it seemed fitting to use the same approach about my art journey.
There is great value in reviewing your art journey, so you can see the way the journey has taken you or you have taken the journey!
July - Cinnamon Arts Showcase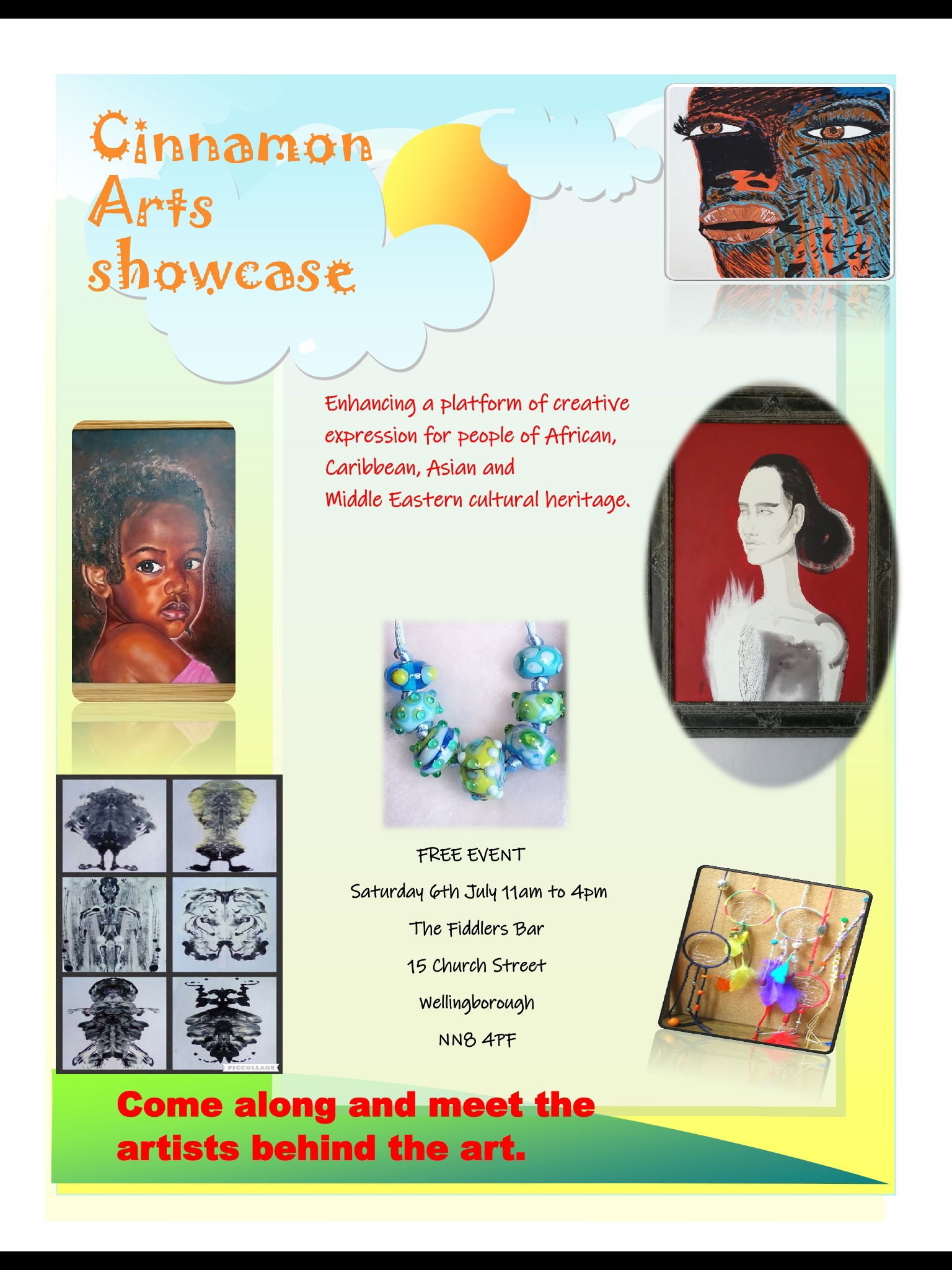 Cinnamon Arts Group - Enhancing a platform of creative expression for people of
African, Caribbean, Asian
and Middle Eastern cultural heritageCinnamon Arts Group is based in Wellingborough, Northamptonshire. On Saturday 6th July, between 11am - 4pm I helped curate and participate in their showcase which was hosted by The Fiddlers Bar in Wellingborough.
In some parts of the country, especially the more rural places, there aren't as many opportunities for people to see and experience art. Exhibiting artwork in a pub, restaurant or other alternative venues, brings the artwork to the local people rather than expecting them to travel some distance to an art gallery further afield in a city.
On this occasion, The Fiddlers Bar benefitted from enhancing and beautifying their space and attracting new people who would never otherwise visit. Plus this was a chance for the artists to meet the locals and discuss their artwork, along with recruiting new group members.
Every showcase an artist can get, regardless of where you get it, is a line on your art resume. Unless you get your art out there in front of the public in as many ways as you can, you'll never know who might see it, how much they'll like it when they do, who'll become your biggest fans, and what they might be able to do for you if they really like what they're looking at.
Here's a promotional video of the showcase event made by Jenny Labbon, Chair of Cinnamon Arts Group.
August - New Spontaneous Abstract Style Completed 2019

As mentioned in the June section, I started experimenting with a new art style – Spontaneous Abstract – which evolved while being on a break, you could say I was off-duty and so no planning or wondering what to draw and paint.
Also new was working in an A3 size sketchbook, although I've made A3 size collages.
The preview video above captures 11 new pieces completed in 2019 in this style, except for the second 'Ocean Goddess' piece.
Spontaneous Abstract is a form of art involving the combination of abstract art and bold colour schemes using a range of mediums. Another term would be Abstract Expressionism. These genres offer artists new ways of exploring and creating art. It's provided me with a playful approach to making art and has enabled me to find creative freedom in the process.
Jackson Pollock is the most well-known Abstract Expressionist, famous for his mural sized action paintings. Placing the canvas on the floor, this artist would drip, splatter, fling, and smear paint from all sides. But despite the spontaneous appearance of his paintings, there was an element of chaos and control particularly when making his drip paintings.
Jackson Pollock On His Process:
"When I am in my painting, I'm not aware of what I'm doing. It is only after a sort of 'get acquainted' period that I see what I have been about. I have no fear of making changes, destroying the images, etc., because the painting has a life of its own. I try to let it come through. It is only when I lose contact with the painting that the result is a mess. Otherwise there is pure harmony, an easy give and take, and the painting comes out well."
For me, I have found a greater sense of fun and freedom working in this stream of consciousness fluid way, especially as it can be quick and easy to make marks on the page, as long as you throw caution to the wind and don't get in your own way.
Including words and phrases gives the outcome a whole different look and feel as well as a unique experience as you loosen up in the art making process. Spontaneity offers many layers for you to discover.
Working in this new style has surprised me as some of the pieces have revealed autobiographical connotations that must have been in my sub-conscious. Each painting gives me enough incentive and motivation towards the next one and the more I work in this way, the more I feel creatively free.
It's only afterwards that the thoughts and feelings arise, not during the art making process. I like the way the pieces capture movement and can be 'read' as well as viewed. There are always some 'constraints', like the size of surfaces, paints used, etc, but otherwise you're as free as you want to be.
September - Freely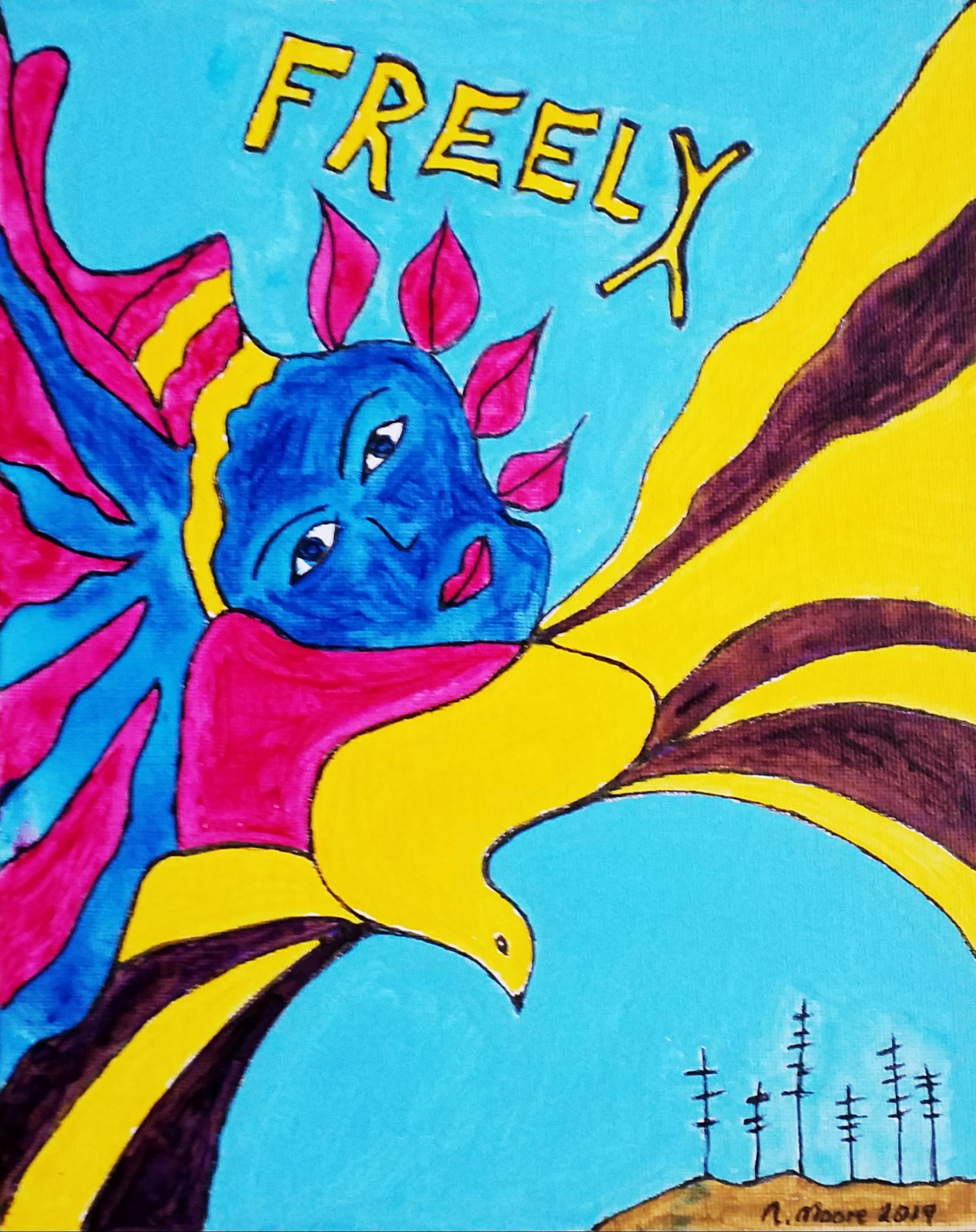 Nicole Moore, Freely, acrylic
on canvas board A4Still using the same spontaneous abstract style with quirky creatures, this piece was a test run using acrylics on a canvas board. It's a good idea to use a canvas board to practice, with a view to painting on a stretched canvas. My idea here was to incorporate the style in a range of mediums.
This is the first time I've used this style on a smaller surface working on a canvas board. The versatility of acrylics means that you can choose from a wide range of painting surfaces (such as wood and paper), but canvas is the most popular.
October - Sold 'Fruit & Veg Basket'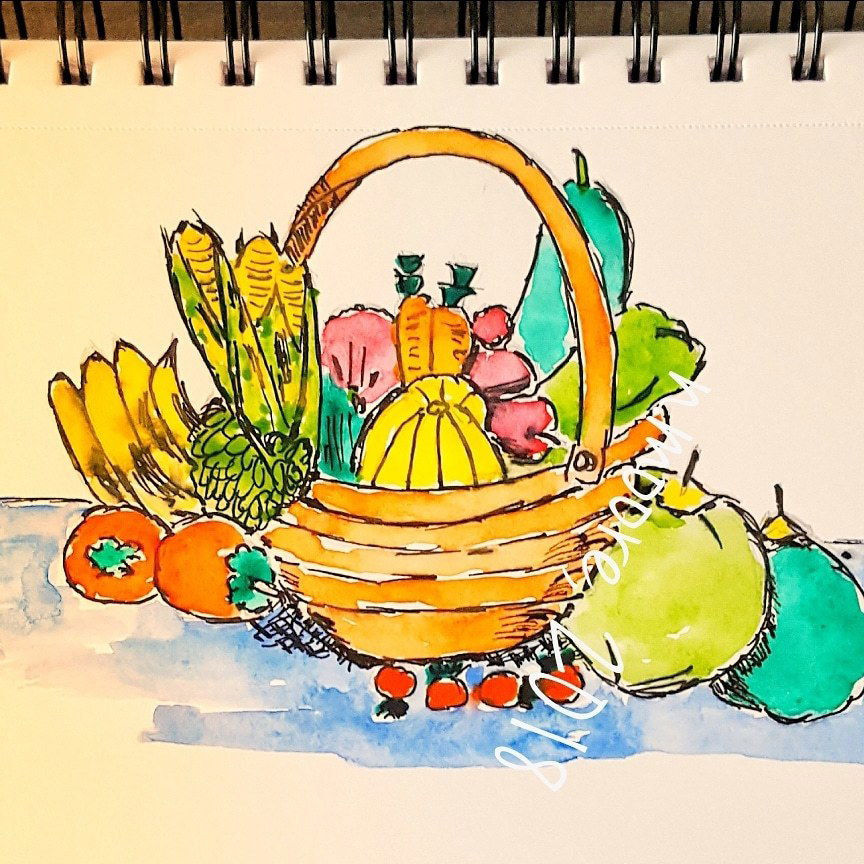 Nicole Moore, Fruit & Veg Basket, 2018, watercolour and ink on Crawford & Black Sketch Pad A5This is one of my favourite sketches. Working with watercolour and ink takes sketching to a more dynamic and satisfying place. The above version of this image is posted on my Instagram account hence its square format. The original is slightly wider and has my actual signature.
When a potential private collector from Peterborough first noticed this piece of artwork displayed at my home, he said, "I would buy that." This was before I was even thinking of selling my art. Then when I did get around to pricing my artwork in readiness for the May showcase, I was more adept at using a formula to arrive at a price my collector and I was happy with. He purchased/collected the mounted and framed piece in mid-October and has plans to take it to Grenada when he retires.
I say more about my current position on selling art in the Conclusion.
November - Digital Art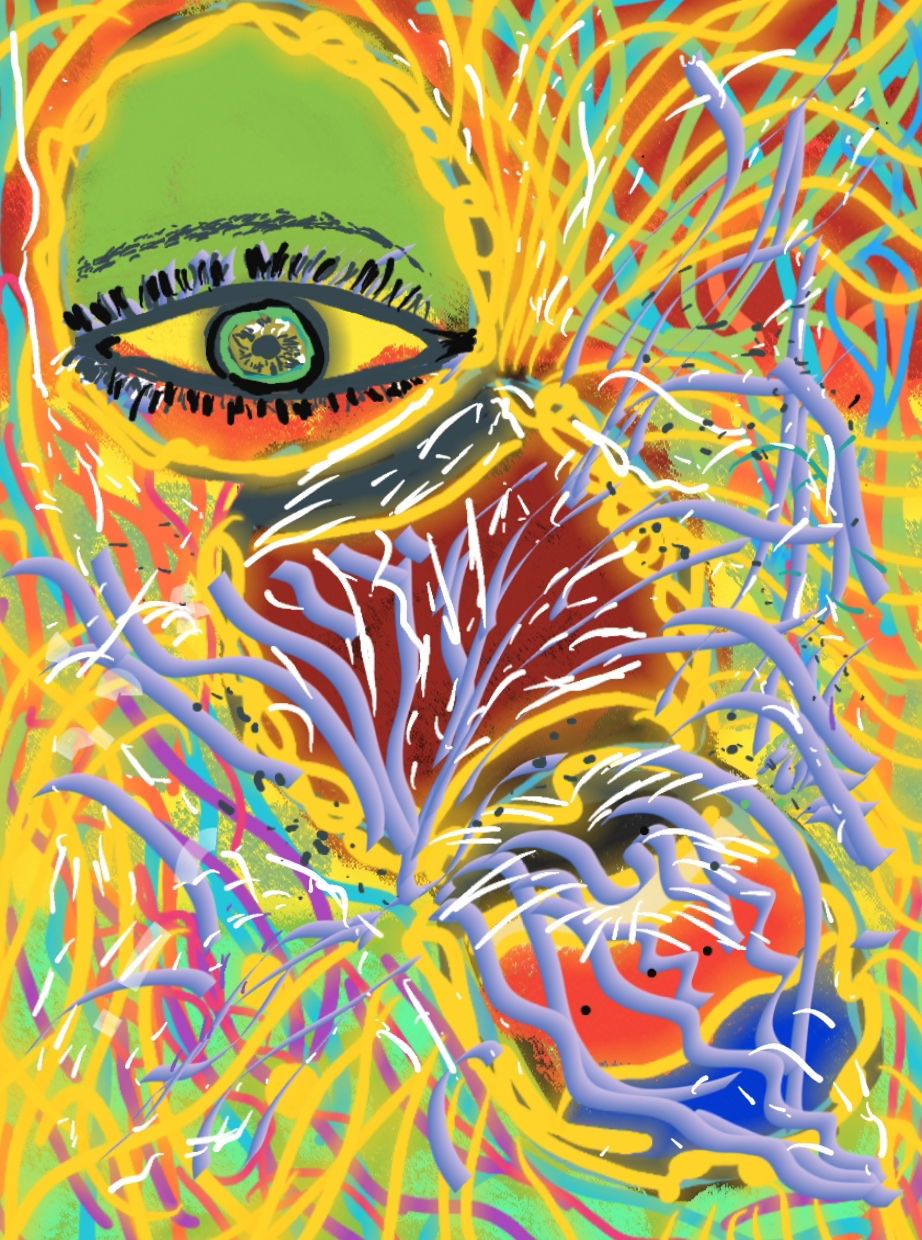 Nicole Moore, Untitled 1, 2019, S Pen on Samsung S3 Tablet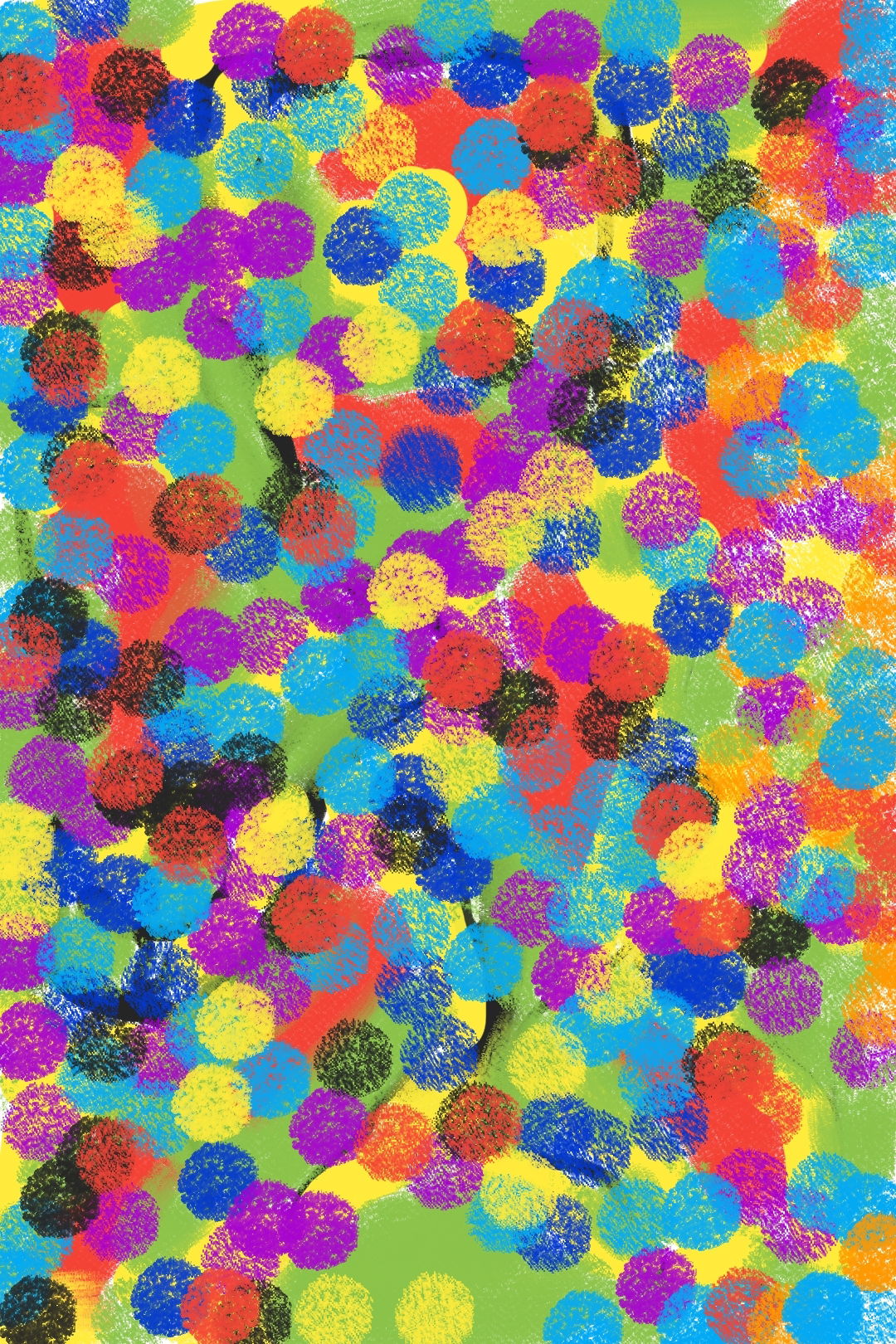 Nicole Moore, Untitled 2, 2019, S Pen on Samsung S3 Tablet
And now for something completely different!. Digital art is something I dabbled in when I upgraded my very slow iPad with a new Samsung S3 tablet, which came with an S Pen. I have to say, it's marvellous what technology is capable of.
I found the process fun and somewhat therapeutic as I made 'mistakes' and was able to erase them with a ciick of a button (and sometimes lose an image completely!) and there is an element of fun when playing with art in this way.
I am also aware that many digital artists who have studied their craft by way of graphic design are talented in their field and are producing the most stunning artwork using this method. The Pixabay royalty free cover image of this post is a prime example.
Traditional Approach
There is a place for typography and illustration within my artwork practice, even though I'm of the traditional yet instinctive mindset when approaching art. I want to feel the paint brushes, paint, and sketching pencils on a range of different size surfaces rather than use computer software and draw on a screen.
Digital art definitely has its place in our new tech world and will continue to develop and surprise us with just how ingenious it is.
December - FPAA Art Presentation
Being invited by Tony Roberts, host of the FPAA poetry group to deliver a second presentation on 27th December was the highlight for this month (I'm not into Xmas) and a nice way to end 2019.
Similar to the first presentation in May, but not so full on, I chose to combine writing and art that represent my Guyanese cultural heritage.
I featured Guyanese poets Maggie Harris, reading from her poetry collection From Berbice to Broadstairs and John Agard and his collection From the Devil's Pulpit. I had met both poets, so was able to give a little backstory about the person behind the poet.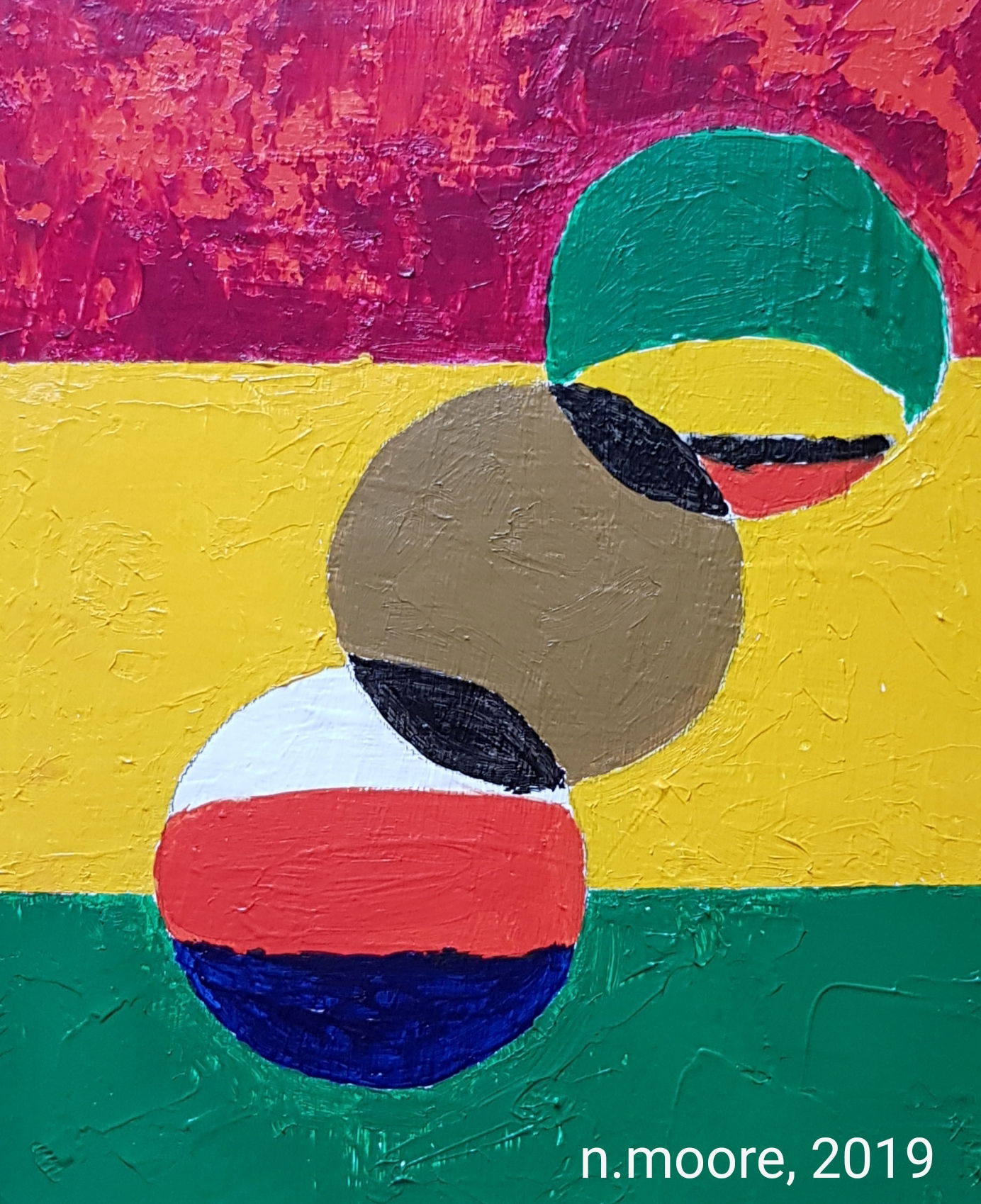 Nicole Moore, English/Guyanese Identity & Cultural Heritage Represented, acrylic on canvas A4 I shared two pieces of artwork – the above image isn't a 'true' abstract piece as it has a representational context. I've broken the 'rules' of abstraction here. Without my representational viewpoint it is an abstract piece and is open to viewers' perspectives. I like that the image can just be, yet is meaningful to me.
Circles, Colour Scheme, Background Colours
So what was my thinking about the image and the deliberate rational of the circles, colour scheme, and background colours? Beforehand, I had been working on circles in my sketchbook which led to more research ...
According to Thoth Adan in his "Symbols Based on Circles" blog post, "The circle is a omnipresent, universal symbol with extensive meaning. Without beginning and end, without sides or corners this geometric shape tells us about perfection, unity, spirituality and life like no other form.
As Pythagoras would say, the circle is the most perfect shape. It withholds all and everything emerges out of it. Every point of the circumference is the exact same distance from the centre. It is infinite and stands for non-existence and eternity. The circle is, to a certain extent, the oldest of all symbols.
Every thought, every form of energy, moves or concentrates in circular or spherical courses. Heat rays are spherically formed, planets circle the sun, atoms circle their centre nucleus, our thoughts circle our problems, circular waves radiate in water from an object touching its surface, etc.
Our life seems to flow in a circle. We enter the world through a circular opening, we grow up in a family circle. We see the world through a circular opening (pupils) embedded in the circular iris, which in itself is a beautiful, circular cosmos of its own."
The Painting
In my painting, the circles theme depicts my identity and cultural heritage as a fluid and evolving entity. The top circle represents the colours of the Guyanese flag. The bottom circle represents the colours of the Union Jack flag. The middle circle represents my identity positioned between both circles balancing out the Guyanese and English cultural heritages as supporting rather than dominating my identity. The diagonal position of the circles signifies movement.
The background colours red, yellow and green, are the colours of the Rastafari flag – the very same colours of the Marcus Garvey movement back in the early 1900's – and represent the bloodshed of the African people, the natural wealth/gold of the African land and the lush fertile greenery of the African continent. This colour scheme reflects my appreciation of the Rastafari philosophy (not the religion as I'm not religious), and respect for the culture, vegetarian diet, and reggae music.
The painting can be displayed in a portrait or landscape position as long as the background colours follow in the sequence of red, yellow, and green.
For the landscape piece below I used a reference photograph from the book Guyana, edited by Arif Ali.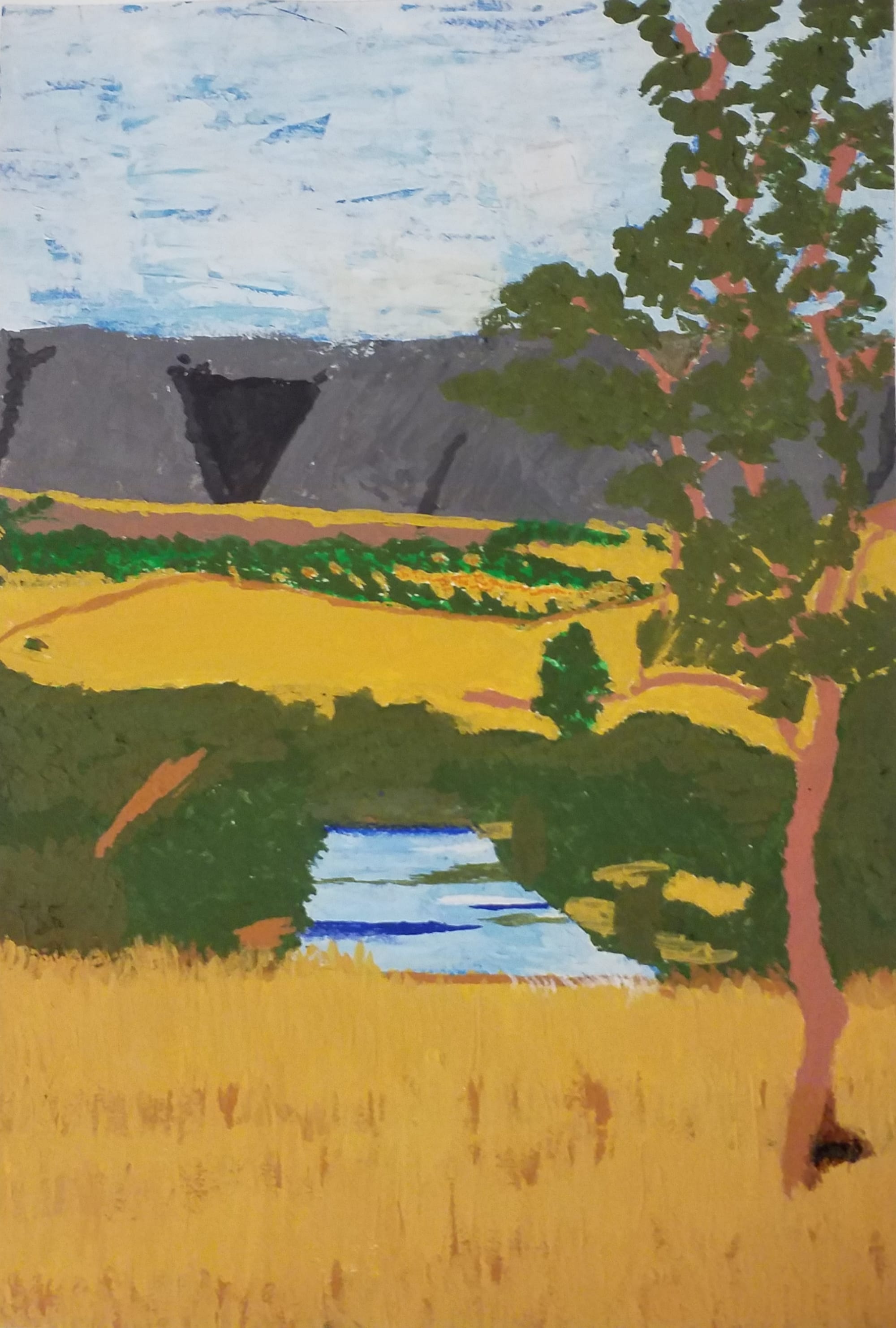 Nicole Moore, Pakarama Mountains in Region 7, 2018, gouache on Strathmore Visual Journal Paper A4Conclusion:
Vision for 2020 - Apart from continuing to work in the newish spontaneous abstract style, I'll be making more abstract art that represents, as I find the process revealing and fascinating plus I like breaking the rules!
I also aim to make more collages this year with a migration and/or social justice theme. I'll be sharing the ones I've already done here soon.
And I will continue to visit art fairs and galleries to go see some art! Thank you to my friend Marcia Lobban for accompanying me to those inspiring art galleries in 2019.
What I won't be doing - I'm not interested in commercial art, that is, in actively selling my art. It's about the right moment and mutual recognition with the right collector, that leads to the work being with a new owner. This means I'll accept a reasonable offer for my artwork, which is mutually agreed upon. After all, the price of art is subjective and difficult to decide upon as there are so many factors, and so many formulas!
Earlier this year, I must admit I was tempted to go down the commercial art route. I was even approached by two galleries, one in the UK, one in New York, the latter one got me a bit too excited (for about five minutes) until I read the small print and realised I would have to pay an extortionate fee to exhibit my work.
I'm not against showcasing my art and I've done that a few times this year at a minimal cost, except for buying prints and frames. Art fairs like Parallax in London are definitely worth considering and a wise choice as they don't charge excessive fees and the art fair itself is free to enter, making the whole experience very user-friendly.
Reference Images - 2019 was the last year I'll be using reference images in my artwork practice. There came a time when using reference images from royalty free sites didn't sit well with me anymore. I've been grateful for the experience and there is a lot to learn in the process as they can be powerful tools. And I never copied the reference image exactly as it was. In the end I found it was far better to take the reference photo myself.
* * *
Cover Image: Pixabay
How was 2019 for you? What are your artistic goals for 2020? Let me know in the Comments section.
To subscribe to my blog, you just have to submit your email address below.