Published Artwork: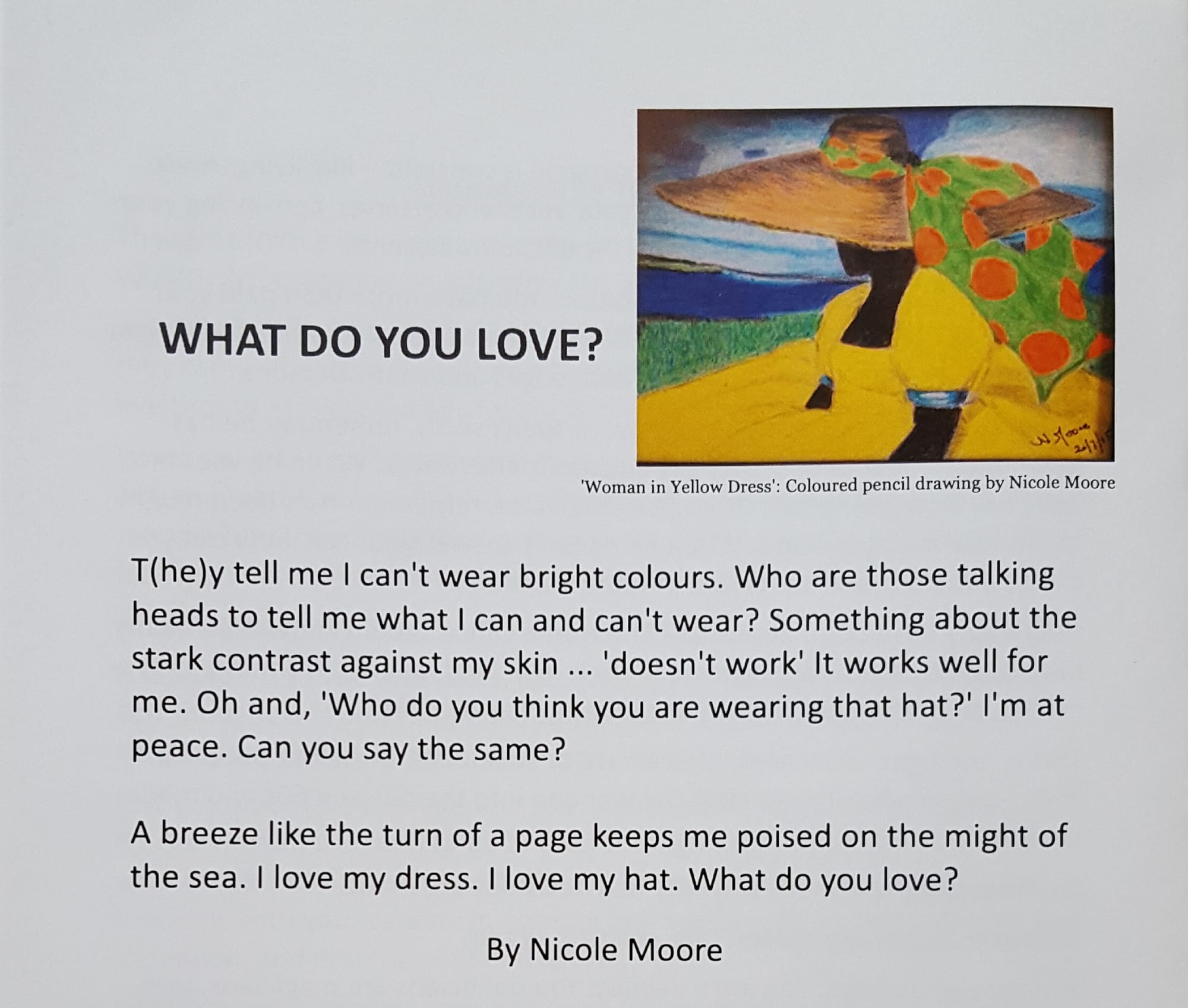 Woman in Yellow Dress in Coloured Pencils © Nicole Moore, 2018
'What Do You Love' poem
Published in Northamptonshire Black History Association Newsletter, Page 8, May 2018
The Waendel Art Exhibition 2018:
Competitor - Submitted 2 Pieces of Artwork:
Maasai Warriors in Acrylic
Cactus Plant Still Life in Watercolour
Exhibited 11th May to 23rd May at Castle Theatre, Wellingborough, Northamptonshire
Curatorial Projects:
2004: Coordinated Black History Month, funded by Wellingborough African Caribbean Association - included Commissioning Philomela Francis, Art Therapist, to Exhibit her 'Brown Sugar' series of paintings on canvas, of Black women, made using the medium of brown sugar and molasses. Exhibited at The Castle Theatre, Wellingborough.
1997: Year Against Racism - Curator of 'Images & Voices: Past, Present, Future' Photography Exhibition of Black Women - Organised by Nehanda Black Women's Organisation, as part of Under One Sun Festival. Funded by London Borough of Enfield, Exhibited at Gallery Fore, Edmonton, London. Toured local libraries and the Civic Centre.
Collections:
Private collection: Kent, Buckinghamshire, UK
Private collections: Loughton, Essex, UK
Private collections: Wellingborough, Northamptonshire, UK
Private collection: Northampton, Northamptonshire, UK
Private collection: Peterborough, UK